About Galway
The unique combination of a bustling city and a thriving university means that Galway has something to offer everyone and caters to young people like few other places. Galway is currently ranked as the top destination to visit in Ireland by The Lonely Planet Guide (2012). They describe Galway as being steeped in history yet with a contemporary vibe.
Cultural Galway
Galway is a cultural centre, attracting thousands to the many festivals throughout the year. A few of the big attractions include The Cúirt International Festival of Literature, the Galway Arts Festival, the Galway Racesand the Oyster Festivalthey are famous throughout Ireland and beyond. Theatre lovers are particularly blessed with a number of superb theatre companies based in the city, including the world-renowned Druid Theatre Company. The state-of-the-art Town Hall Theatrewas opened in 1993 and covers all aspects of the performing arts including concerts, ballet, musicals, and operas.
Vibrant Galway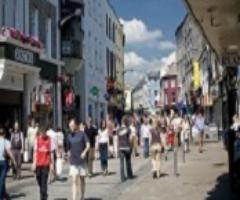 Even though it is one of the fastest growing cities in Europe, Galway has retained the friendly character and intimate feel that make it so popular.
Galway is young at heart, with students making up 20% of the population here. They bring youth, excitement, curiosity and energy to the city, and this added dimension is what makes Galway the place to be. Students benefit from all the facilities that a modern city has to offer including extensive shopping outlets and entertainment venues, two cinemas, cafes and restaurants, nightclubs and an abundance of music venues to choose from. Galway is the most international place in Ireland with 1 in 4 people born outside of the state.
Sporting Galway
Galway is a great sporting city. Whatever you are into, from horse racing, Gaelic games, soccer and rugby to rowing, motorsport, greyhound racing and more.
The Galway Races are a popular international event and the highlight of the Irish horse racing calendar; while the Galway International Rally was the first international rally to take place in the Republic of Ireland.
Gaelic games:The city has hurling and Gaelic football teams at all levels, and major matches are played at Pearse Stadium located in the city.
Rugby: There are two senior rugby union teams in the city, Galwegians RFC and Corinthians RFC, as well as provincial Connacht Rugby who play in the Heineken Cup and hold their matches at the Galway Sportsground.
Water sports: Sailing and rowing on the River Corrib are also popular in Galway and there are five rowing clubs in the city, including the University's own club.
The Hinterland
Galway is in close proximity to some amazing natural sites, including:
The Burren: an area of beautiful limestone landscapes in nearby County Clare. Burren is Irish for "stony place"
Connemara: Oscar Wilde called Connemara a savage beauty. NUI Galway is only a stones throw from the seaside, mountains and lake-rich bogland of beautiful Connemara.
Irish in Galway: NUI Galway is a great location for those who are interested in the Irish language. The campus is near the Gaeltacht centres in An Cheathrú Rua, Carna and Gaoth Dobhair. Find out more about our Irish language Centre and Acadamh na hOllscolaíochta Gaeilge.
Civic and Community Life
Galway is full of passionately civic minded people and organisations working to create a rich fabric of social inclusion and participation. You can truly belong to Galway's community through volunteering, community based learning placements and research partnerships. NUI Galway is deeply committed to engaging with Galway's civic communities and making a contribution. Over the next few years, for example, NUI Galway is delighted to be a vital part of Galway's Capital of Culture 2020 as a city and county wide community initiative.