CKI at ILAS hosts major international conference on University-Community Engagement
&nbsp
The CKI at ILAS NUI Galway welcomed over 150 international delegates from South Africa, Egypt, Vietnam, Ireland, UK, Germany and across the USA, to the 7th annual International Symposium on Service Learning (ISSL) June 14-16, 2017. The ISSL is an on-going partnership between the University of Indianapolis, the Stellenbosch University and the National University of Ireland-Galway and for three days the delegates discussed the role of higher education within society through service learning. Lorraine McIlrath served as conference academic chair.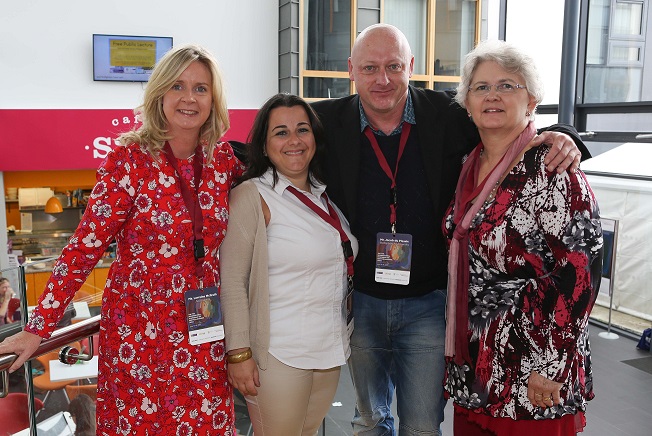 Photo – left to right: ISSL Chair, Lorraine McIlrath, NUI Galway; ISSL Co-Chair, Marianna Foulkrod, University of Indianapolis; ISSL Co-Chair, Jacob du Plessis University of Stellenbosch; and ISSL Founder, Antoinette Smith-Tolken, University of Stellenbosch
Service learning is a teaching approach that connects student learning to the needs of community. Since 2004, NUIG has been offering up to 2,000 students an opportunity to connect their learning to community, Lorraine McIlrath Director of the Community Knowledge Initiative at NUI Galway and Co-Chair of the ISSL says that "students at NUI Galway have an opportunity to use their knowledge to connect with real world problems - engineering students design and build prototypes for people with physical disabilities, nursing students address the implications of nursing in a Irish multi-cultural context and law students offer pro bono legal information to community partners. We feel that this type of learning can open students minds to their role as agent of change within community and society".
The theme of the 2017 symposium was "Service Learning as a Response to Global Transitions in Higher Education: Opportunities for Transforming Higher Education on Advancing Social Impact". Delegates shared knowledge across different cultural contexts on what matters and works when using service learning as a teaching approach. It was a fantastic opportunity for universities in South Africa, Europe and the USA to come together to showcase from international perspectives the challenges, opportunities and impact that service learning can have in terms of transforming the higher education experience and that of impact within community and society.
When reflecting on the 7th ISSL, President Robert L. Manuel from the University of Indianapolis says,
"Service learning encompasses much more than providing on-site educational experiences or featuring community leaders in the classroom. It represents a true partnership to not only educate students but also instil in them the mind-set and thoughtfulness necessary to enhance their community—no matter where their life takes them. The inspiration ignited today will help us to translate these experiences to the next generation of influencers and community leaders."