Final Meeting of the Erasmus+ Funded Europe Engage Project hosted by CKI at ILAS
&nbsp
The Community Knowledge Initiative (CKI) in June 2017 hosted the final meeting of the Europe Engage Project with 12 European universities based in in Spain, Ireland, Germany, England, Finland, Italy, Portugal, Lithuania, Croatia, Belgium, Netherlands and Austria. The project entitled Europe Engage – Developing a Culture of Civic Engagement through Service-Learning within Higher Education in Europe [Reference 2014-1-ES01-KA203-004798] is a 3-year project funded by the European Union with the purpose of identifying existing service-learning practice, promoting service-learning as a pedagogical approach, and creating a network in this region, where much remains to be done in terms of civic engagement and service-learning. It was funded between September 2014 to September 2017 by the EU Erasmus+ and led by the Autonomous University of Madrid in partnership with the National University of Ireland, Galway. The overall aim of the project was to promote service learning as a pedagogical approach that embeds and develops civic engagement within higher education, students, staff and the wider community within Europe.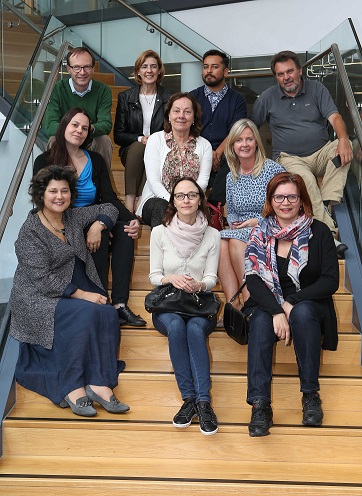 The project aligns and dovetails with EU higher education policy including the 'Modernisation of European Higher Education' strategic priority through the Bologna Process and Declaration (1999) which states that 'A Europe of knowledge is now widely recognized as an irreplaceable factor for social and human growth and as an indispensable component to consolidate and enrich the European citizenship, capable of giving its citizens the necessary competences to face the challenges of the new millennium, together with an awareness of shared values and belonging to a common social and cultural space.'
Over the period of three years the project has gathered resources and expertise so as to develop a central repository of knowledge related to service learning, conceptions and practices within Europe. It undertook a mayor national and European mapping exercise to better understand the breath of service learning practices among the 12 European countries and also develop an online MOOC to help academic staff gain deeper understandings and skills related to service learning. Over the three years of the project the network has been invited to keynote at a number of international conferences internationally in Bologna, New Orleans, Xalapa and Santiago de Compostella, to mention a few. The project has been regarded an innovative as Europe is one of the last regions globally to consolidate practice and develop a supportive collective to promote and mainstream service learning.
Partner Countries and Universities
Country Partner University
Austria IMC University of Applied Sciences Krems
Belgium Ghent University
Croatia University of Zagreb
Finland University of Helsinki
Germany University Duisburg-Essen
Ireland National University of Ireland, Galway
Italy University di Bologna
Lithuania Vytauto Didžiojo Universitetas (Vytautas Magnus University)
Netherlands Erasmus University
Portugal ISPA University Institute
Spain Autonomous University of Madrid
UK University of Brighton