Neil Slevin
Neil Slevin completed his Bachelor of Science degree in Physical Education and English teaching at the University of Limerick. He worked as an English teacher for four years in the U.K. before returning to Ireland to pursue a career in writing. Currently, he is studying for an MA in Writing at NUI Galway.

He first encountered the ILAS when walking past it on his first day as an incoming NUI Galway student and was intrigued to find out more about the ILAS and the role it performs as part of the University.
Neil now writes for the ILAS (and The NUI Galway Student Paper, SIN, Student Information Network) to document the centre's work and to promote the centre both locally and further afield through print and online publication.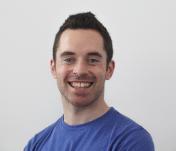 ‌