The project's initial deliverables and project plan.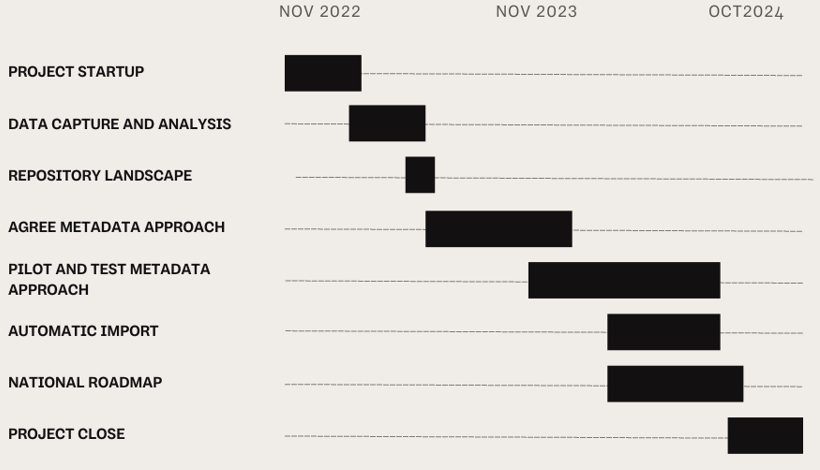 Deliverables
A database/inventory of repositories.
An audit report on existing practices for Irish repositories to identify strengths and gaps.
An agreed and published national roadmap for OA repositories.
A metadata implementation standard for research publications.
A set of community guidelines for metadata implementation.
A governance approach to oversee compliance and quality in OA repositories
Guides to implement common and best-practice standards for technical infrastructure and service provision within the network.
Pilot implementation in 2-3 repositories.
Plan
Task list with milestones, deliverables, and responsibility.
Project startup (month 3)
Research office project setup and finance
Project documents and collaboration site
Setup and agree project board and team
Agree TOR and project governance
Finalise project plan/task
Finalise data management plan
Recruit and appoint a PM
Audit and research ready to start (milestone)
Data capture and analysis (month 7)
Review previous NORF and related work
Collaborate with other NORF-funded projects and initiatives around the role of PIDs and rights retention
Desk research (international tool, standards, policies)
Audit repositories (surveys, self-assessment, and interviews)
Create and conduct the survey
Define and conduct a self-assessment process
Data analysis
Conduct 6-8 stakeholder interviews
Conduct 6-8 repository manager interviews
Conduct SWOT of Irish repositories
Data analysis
We understand the local landscape (milestone)
Conduct gap analysis
We know the issues in Irish repositories (milestone)
International best practice
Discover international best practice
Engage with international best practice organisations (openAIRE, Rioxx, OpenDOAR, COAR etc)
We understand international best practice (milestone)
Analyse all data
Ready to start creating an Irish solution and roadmap (milestone)
Repository landscape (month 8)
Create a database of Irish OA repositories
Publish the inventory of repositories (Deliverable 1 - Project Manager)
Publish an Irish repository landscape report (Deliverable 2 - Project Manager)
Agree metadata approach (month 13)
Draft metadata scheme
Community feedback
International feedback
Stakeholder feedback
Redraft metadata scheme
Agree metadata scheme
We are ready to pilot the draft metadata schema (milestone)
Draft community guidelines for metadata implementation
Draft of the governance framework
Draft assessment of compliance approach
Metadata schema support policies are drafted and ready for testing (milestone)
Pilot and test metadata approach (month 20)
Agree 2-3 pilot repositories
Implement the new scheme in pilot repositories (Deliverable 8 - Project Manager)
Test interoperability between Irish repositories
Test interoperability with international aggregators
Revise community guidelines for metadata implementation
Revise governance framework
Revise compliance approach
Get feedback from the community and stakeholders
Publish draft guidelines, compliance, and governance approach
National roadmap (month 22)
Desk research and engage with international best practice
Consider other NORF-funded projects and initiatives around the role of PIDs and rights retention
Consider longer-term outlook
Consider compliance and quality
Consider how to build on the pilot and rollout wider
Draft national roadmap
Revise national roadmap
Publish roadmap (Deliverable 3 - Project Manager)
Project close (month 24)
Share and publish metadata approach
Get final stakeholder feedback and revise metadata approach, guides, and documents
Finalise metadata, guides, and documents (Deliverables 4, 5, 6, and 7 - Project Manager)
Report on methodology, options considered, and a discussion of all findings.