Nayia Christodoulou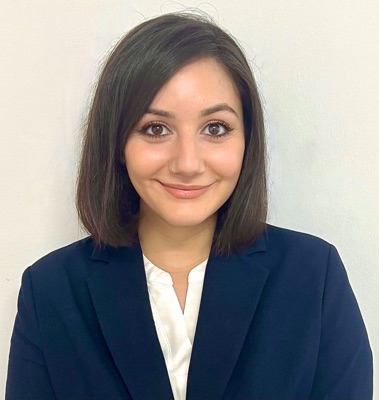 Nayia Christodoulou is a PhD Candidate at the Centre for Disability Law & Policy, at the University of Galway. She holds a Master's Degree (LLM) in International and Comparative Disability Law and Policy from the University of Galway, a Master's Degree (LLM) in Human Rights Law from the University of Nottingham, and a Bachelor of Laws and a Minor in Philosophy from the University of Cyprus. Nayia has worked as a legal researcher in several projects at the Department of Law at the University of Cyprus and at the Human Rights Law Center at the University of Nottingham. She is a qualified lawyer in Cyprus since 2020.
Nayia's doctoral research focuses on the disabled children's right to legal capacity, and her supervisor is Dr. Janos Fiala-Butora. Her research examines how children with disabilities can exercise their legal capacity by benefitting from supported decision-making within the meaning of Article 12 ("equal recognition before the law") of the Convention on the Rights of Persons with Disabilities (CRPD). The research aims to examine the interrelation between Article 12 and Article 7 ("children with disabilities") of the CRPD, the connection between the CRPD and the Convention on the Rights of the Child regarding the recognition of the child's legal capacity, and how the supported decision-making model as adopted under Article 12 CRPD can apply to children with disabilities. Nayia's research is based on an interdisciplinary approach, which examines the legal underpinnings of children's legal capacity, the sociological understanding of children's status under the law, and the psychological assessments of children's cognition.
Publications:
Christodoulou N, 'Restorative Justice in Cyprus' in I. Aertsen and J. Llewellyn (eds.) Encyclopaedia on Restorative Justice in Penal Matters (under publication).
Christodoulou N, Fisentzou I, Kyriakides N, "Cyprus: Affordability and Accessibility of the Civil Justice System" (2021) 4 Erasmus Law Review 235-245.
Christodoulou N, The (Il)Legality of The Prohibition of Headscarves, Human Rights Pulse, 27/04/2021.
Christodoulou N, Headnotes on CEDAW and HRC communications, International Human Rights Reports (2022) 28(1) 7-8, 169-170
Christodoulou N, Commentary of ECtHR cases: Al Nashiri v. Romania (2018), Chowdury and others v. Greece (2017), Enver Şahin v. Turkey (2018), J.R. and others v. Greece (2018), Tchokhonelidze v. Georgia (2018), Nomomachia (2019) (6) 22-24 (in Greek).