European Yearbook of Disability Law
European Yearbook of Disability Law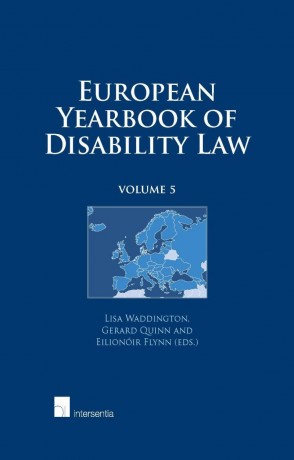 The European Yearbook of Disability Law is part of the ongoing research programme of the Centre for Disability Law and Policy of the National University of Ireland, Galway and the Maastricht Centre for Human Rights of Maastricht University. The European Yearbook of Disability Law reviews the significant developments at European level regarding disability law and policy.
The Yearbook contains a series of articles on current challenges and developments from senior analysts and academics working in the field. It aims to provide critical insight in the evolution of European disability law and policy and offers analyses of pressing challenges in a broad range of fields.

The core of the Yearbook consists of a review of the preceding year's significant events, as well as policy and legal developments within the institutions of the European Union. It reviews major EU policy developments, studies and other publications, legislative proposals, and case law from the European Court of Justice and the European Court of Human Rights.
To purchase Volume 5, please click here.
To purchase previous volumes:
For more information on each volume, consult the table of contents (PDF):
Information:
If you are interested in submitting and article or you require more information, please contact:
Submission of Articles:
The European Yearbook of Disability Law is a peer reviewed publication. Manuscripts should be submitted in Word format to the co-editor at: lisa.waddington@maastrichtuniverity.nl.
The fact of submission will be taken to mean that the manuscript has not been published, accepted or submitted elsewhere. Once the peer review process is completed, the author will be notified of acceptance, rejection or of the need for revision. Acceptance for publication entails the transfer of copyright to the publishers.
Articles should be between 10,000 and 12,000 words including footnotes. Authors are encouraged to submit their articles by March in the year preceding the issue of the Yearbook in which they wish their article to be published.