Shannon College Launches PHD Scholarship
PHD Scholarships Research
Apr
15
2021
Posted: 20:26 IST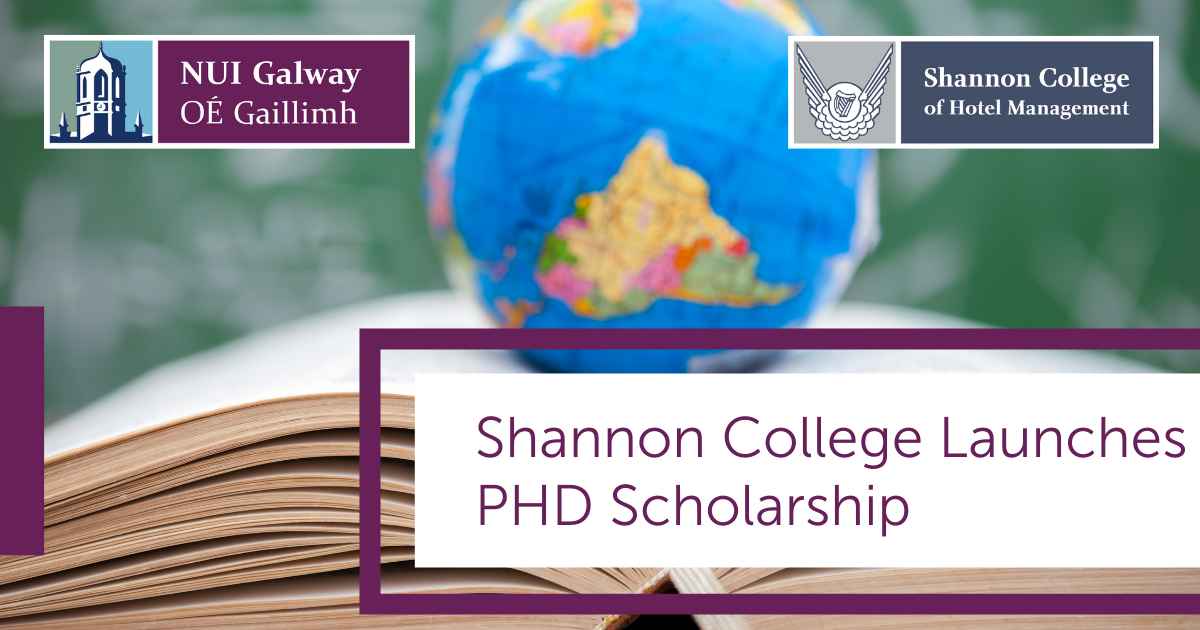 The Shannon College of Hotel Management (Shannon College) in association with J.E. Cairnes School of Business & Economics is looking for a talented, creative and highly qualified individual to work under the supervision of an academic faculty member and contribute to the development of research at Shannon College.
The structured four-year PhD programme has a strong track record in terms of the research student experience and the opportunities afforded to, and the achievements of, PhD graduates. The programme combines scholarly theory-building with a strong applied/industry focus. The PhD scholarship will be offered to the best applicant to pursue advanced research on a significant topic within the field of Hospitality Hotel Management and/or Tourism Policy and Strategy. Examples of potential topics/areas may include (but not limited to):
1) Talent Acquisition
2) Competitiveness and Strategy
3) Entrepreneurship and Innovation
4) Intercultural Communications/Management
5) Dynamics of the Employment Relationship
6) Operational Sustainability
7) Corporate Social Responsibility
8) The Industry-Education Nexus
To read more about the structured PhDs offered by NUI Galway please go to: http://www.nuigalway.ie/business-public-policy-law/cairnes/courses/research/business-public-policy-law.html.
Shannon College of Hotel Management has an excellent reputation within the hotel sector and over seventy years' experience in training, educating, and developing graduates for the National and International Hotel/Hospitality Industry. It is situated in the heart of the Wild Atlantic Way in the Mid-West of Ireland. The College is strategically located at Shannon International Airport and is within easy access to Limerick City and Galway City. The region offers a plethora of social, cultural and tourism services and experiences including the world-famous Cliffs of Moher Visitor Experience and Bunratty Folk Park and Banquet. The mission of Shannon College of Hotel Management is to contribute to the national economy by educating its students to attain management and leadership roles at middle, senior and corporate levels in the Irish and international hotel industry.
The J.E. Cairnes School of Business & Economics is situated on the north side of the NUI Galway campus, right in the heart of Galway The School mission is to deliver a high-impact, globally centric, scholarly environment in which students become well-rounded and employable business graduates, and in which its faculty contribute to society, industry and academia through quality engagement and research.
Note:It is anticipated that the successful candidate will spend most of their time at Shannon College. Time at the University and the School of Business and Economics will primarily be devoted to taking required modules. Further details can be discussed at a later date with the successful candidate.
The Scholarship
The Scholarship will cover an annual stipend of €16,000 (for a maximum of 4 years) including PhD fees of €5,250 per annum subject to satisfactory performance. The successful PhD student will be provided with a dedicated desk and computer and will have the opportunity to participate in research seminars, workshops and avail of research supports through their doctoral programme. The scholarship is not intended for students who already have access to alternative substantial sources of funding (e.g. students working on funded projects or in receipt of other scholarships). However, at the earliest possible opportunity during the tenure of a scholarship, the Scholar will be required to prepare one, or if necessary two, application(s), under the guidance and advice of the supervisor, for external research funding under the Irish Research Council (IRC) Post-Graduate Scholarship Scheme, if eligible to do so.
The Application Process and Guidelines
The Supervisor for this PhD will be a member of faculty at Shannon College. To discuss the potential research area/topic, please contact either Dr Phillip Smyth (Head of School, Shannon College of Hotel Management at phillip.j.smyth@nuigalway.ie or Dr Finian O'Driscoll, Head of Research, Shannon College of Hotel Management at finian.odriscoll@nuigalway.ie
Note that only applicants who have a relevant Master's degree may normally be admitted to the PhD programme. Overseas applicants may be required to submit an IELTS score of 6.5 or equivalent, if applicable. Successful applicants must register with the Shannon College as a Year 1 full-time PhD student for the academic year 2021/22. Scholarships will only be awarded to those who register as full-time PhD students for the period of the award.
To be admitted to the PhD programme, you must submit a Research Proposal Form of approximately 2,500 words, including the following
Abstract
Aims, objectives and central research questions
Methodology
Expected research outcomes
Research schedule and timeline
Two letters of reference
submit a CV and cover letter
The above documentation should be emailed as a single PDF file to both Olivia Noone, College Administrator (olivia.noone@nuigalway.ie) and Dr Finian O'Driscoll (finian.odriscoll@nuigalway.ie ). Your application will be formally considered by the PhD Programme Committee for final approval including an interview.
The closing date is: 15th June 2021.
Contacts and Further Information:
or further information about the application process, please contact either Dr Finian O'Driscoll Head of Research at Shannon, finian.odriscoll@nuigalway.ie or Olivia Noone, College Administrator, olivia.noone@nuigalway.ie .