Gavin Moloney

|

Assistant Front Office Manager, Adare Manor
"During my 1st year studies in Shannon, my elective language was French and as a result, I was placed in Luxembourg for my 2nd year placement. I worked in the 5-Star property, 'Hotel Le Royal' in Luxembourg city experiencing various departments including Food & Beverage, Front Office, Housekeeping, and Culinary. It was the perfect opportunity to apply what I had learned from college in a hospitality setting. 2nd year placement was also the perfect opportunity to travel, and to immerse yourself in new cultures and experiences. Throughout my placement year, I visited a total of 8 countries including France, Belgium, England and Germany."
in

Connect with Gavin

Ian Keating

|

Hotel Manager - The Dean, Cork
"A standout in my Shannon experience was my 2nd Year Placement. I studied Spanish so I was privileged to have the chance to spend a year in sunny Tenerife. I was on placement at The Ritz-Carlton Abama and this experience really helped me learn so much about the hospitality industry but more importantly discover so much about myself. I was able to grow, develop, learn and of course have a lot of fun. Simple things like managing your own living expenses, balancing work with socialising are some of the many life lessons I took away with me on top of all the amazing practical hospitality skills I picked up. I would never have pushed myself to live abroad for a year without this course and I am so grateful that I got to share this experience with a brilliant group of friends from Shannon. We worked hard but also got to play hard, this was an epic experience to live abroad while speaking another language and working in a luxury resort. I always look back and use elements of my learnings from Placement in my day to day career and life."
in

Connect with Ian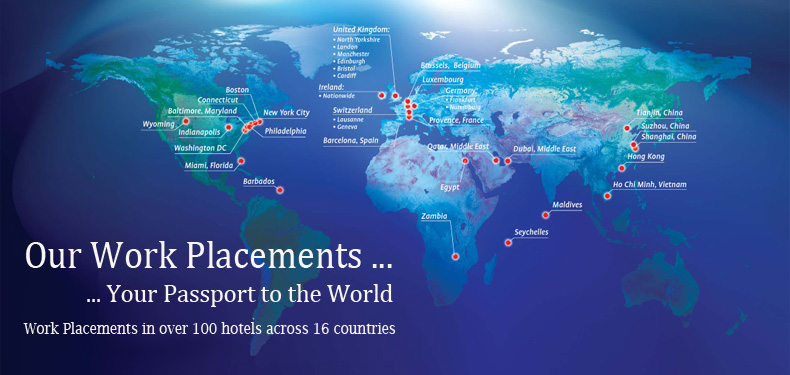 Work
Relevant work experience is a key part of a hotel management degree. Studying at Shannon College provides you with two paid, professional internships with leading hotels in Ireland and worldwide before you graduate. This proves invaluable when you start looking for your dream job in the future.
Students earn academic credits for their work placements which are a compulsory element of the degree courses. Shannon College's Placement Manager administers and monitors the work placement process. Partner hotel companies visit Shannon College to meet and interview students throughout the academic year.
Placements
The BBS and BComm feature comprehensive placements at operative and trainee management levels. The emphasis on practical training (in Year 1) combined with comprehensive placements is essential for the development of the students' skills in leadership, teamwork, personal organisation and attention to detail; all of which are vital for their role as future hotel managers.
Work Placements at Shannon College are:
mandatory (every student must complete work placements in order to progress to the next academic year and graduate)
fully integrated into the degree programme
allocated ECTS credits (academic credits)
required to meet comprehensive learning outcomes
located in one of our 100 hotel partners
spread across 16 countries worldwide
managed and co-ordinated by the Work Placement Office