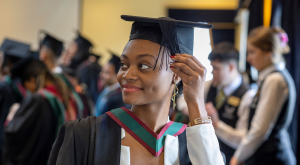 Share Your Story
We would love to hear from you. Share your journey from student to alumni, or add edits.

Ian Keating

|

Hotel Manager - The Dean, Cork
"I always knew that I wanted a career in Hotels, it was both my job and my passion. Life is too short to have a career that you don't love. I have never looked back and it has opened so many doors for me, including some amazing experiences. The mix of practical and theory suited me perfectly and geared me up for a career in the Industry. The lecturers at Shannon College were so approachable and always motivated me to become my best self.Shannon College is a lot more than just a course, it is a 'Family' of like-minded people all passionate about the Hospitality Industry, and as a result, I have made life-long friends from Shannon who I would be lost without. If you're considering a career in Hospitality, then this is the course for you!!"
in

Connect with Ian

Olivia Campbell

|

Lounge Manager - Sofitel, St. James London
The mix of business and practical modules develops your soft skills, and the qualification of the level 8 business degree allows you to delve into so many different career paths later in life. It truly rounds you as a professional in the industry. Shannon also gave me an incredible circle of lifelong friends and opened the doors to a wider network of Shannon alumni all over the globe. For me, Shannon is much more than just a college, it's a family. Shannon allowed me to be me and being someone with learning difficulties such as dyslexia I never thought I could achieve what I have achieved today. The tremendous number of services and support along with a very open approach to learning has pushed me to achieve my best. Shannon embraces every student and their uniqueness, bringing out the best in all of us.
in

Connect with Olivia

Neal Fennelly

|

Operations Manager, O'Callaghan Collection
My time in Shannon studying the BBS was incredible and lifelong friends have been created between students and lecturers. The campus life was terrific fun and the various events throughout the year are always a big highlight for students. Shannon College has given me opportunities to have positions in some of the world's leading hotels such as 'Adare Manor', 'The Mandarin Oriental', Hyde Park, London, 'Lyrath Estate' and 'Kilkea Castle'. Having graduated into the cusp of the pandemic, Shannon College Alumni offered fantastic guidance and support to myself and students which has now led me to my current position as Operations Manager with the fabulous O'Callaghan Collection.
in

Connect with Neal

Katie Raeburn

|

Customer Success - Shackle
I, like many others, had no idea what I wanted to do after school. I found Shannon through a family friend, and alumni, who inspired my decision through sharing fond memories. At first I was daunted by the idea of a small college, while all of my friends were attending big colleges in Dublin. But, two years and a global pandemic later, I can confidently say that I would do it all over again in a heartbeat. Not only have I gained invaluable international experience and professionalism, but I have also had the opportunity to learn from some of the industry's best leaders, in some of the best hotels in the world. In addition, I have grown a global network and made lifelong friends and memories.
in

Connect with Katie

Killian Fitzpatrick

|

Hotel Operations Manager, Ballynahinch Castle
"I certainly have Shannon to thank for laying the foundations for my career that I hope goes from strength to strength. Learning to be an ultimate professional comes from my training in Shannon and our alumni can be easily identified all across the world."
in

Connect with Killian

Alina Kvinna

|

HR Operations Project Coordinator AirBaltic
The welcoming staff, International environment, competitions, charities, events - there are so many bonuses to studying at Shannon including becoming part of the global family. After graduating I have worked within the hotel industry in the UK and Ireland whilst also completing my Masters in International Entrepreneurship. Now I have changed the industry slightly - to aviation, so similar but yet so different. I work within the HR department and the foundations from Shannon College have helped me to get where I am now.
in

Connect with Alina

Killian Clancy

|

Assistant Financial Controller at RBH, London
"I chose Shannon College to kick start my career in the hospitality and business industry, and my experience has been incredible. Looking back at so many fond memories, I can say that the aspect of travelling was one of the best parts. Spending year 2 placement in Brussels, summer of year 3 in Nantucket and my final year placement in London has allowed me to develop not only as a professional but in my personal life too. The reputation of the college is recognized all over the world which has given me many opportunities since graduating."
in

Connect with Killian

Sergiu Healy

|

Venues Manager at Fairmont Hotel St. Andrews
I started my journey with Shannon College of Hotel Management in 2016 with the belief that this was the perfect platform for which I could achieve my goals and develop a successful career in Hotel Management. I look forward to crossing paths with other graduates who are currently working all around the world and continue developing my career further with the aid of the experience Shannon College of Hotel Management has given me. I know it will be an extraordinary adventure.
in

Connect with Sergiu

Ian Moloney

|

Group Senior Marketing Executive O'Donoghue Ring Collection
Combining my educational background in marketing and my love for photography and graphic design I started working with the O'Donoghue Ring Collection as a Digital Marketing Executive. Since then I have progressed to my current position, Group Senior Marketing Executive with responsibility for a portfolio of brands including hotels, restaurants, apartments, bars and a spa. I look after the 25+ social channels, creating unique and memorable content. I work with the wider team in developing creative and effective digital revenue driving and brand awareness campaigns through Meta and Google Ads and work on exciting brand development and graphic design projects for new businesses within the collection. The creativity this role affords me is second to none and working with a rapidly expanding and progressive company has given me invaluable skills, industry insights and life experiences. The support network from Shannon Alumni is everywhere you go and I hope to be able to welcome some fellow students and graduates through our doors in the future.
in

Connect with Ian
Akash Yadav

|

Front Office Manager, Accor Group, Qatar
My journey has been amazing so far and there are lot more of adventures ahead. I have learned, discovered, experienced and grew in this industry. So far I have worked in 7 countries and travelled to 32 countries. I have made lifelong friendships all around the world and still exploring. If you are considering a fun, exciting and fast paced career, this is the one for you.
in

Connect with Akash

Clodagh McDonald

|

Front Office Manager at The Galmont Hotel, Galway
I can confidently say that choosing Shannon College of Hotel Management was the best decision of my life to date. I have met not only lifelong friends, but now have connections across the globe, opening so many doors for my career in hospitality. The lecturers at Shannon will guide you, train you and do their absolute best to help you achieve your goals. I am so proud to be a member of the Shannon Alumni and more importantly the Shannon Family.
in

Connect with Clodagh