Shannon College Ethos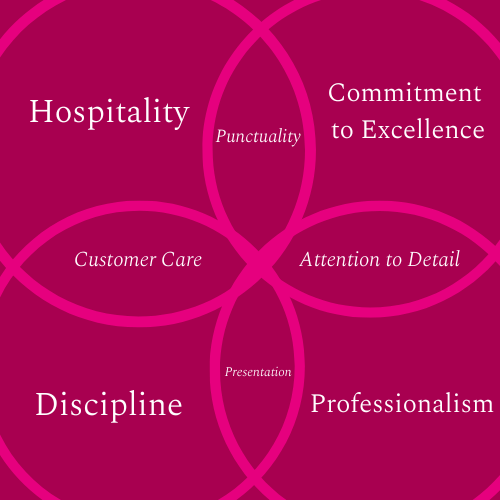 ‌
The ethos of the Shannon College can be described as the inculcation of exceptional standards of professional presentation, courtesy, attitude and discipline.
This ethos actively prepares students for the hotel workplace by promoting customer care, attention to detail, full attendance, adherence to a professional dress code, courtesy, the meeting of deadlines, leadership roles and posts of responsibility and team work.
The ethos of Shannon College results in a rich and unique education experience for students which includes a college suit for all students and a Code of Discipline.
College Suit
Shannon College students are easily identified by their college suits which they wear to classes each day. The business suit helps to prepare students for the responsibility of appearance and grooming that is expected of a hotel manager.
Code of Discipline
Students will sign a Code of Discipline upon enrollment in Shannon College. The Code of Discipline is based on what would be expected of a young manager in a well-run hotel and asks students to respect the core values of Shannon College (e.g. attendance, punctuality, honesty).
Inclusion Statement
At Shannon College, we recognize that we have a diverse group of staff and students and we embrace and value the diversity of all our members. It is our policy to be inclusive and mindful of this diversity in all aspects of college life. We affirm all people regardless of age, culture, disability, ethnic origin, gender, gender identity, marital status, nationality, race, religion, sexual orientation, and socioeconomic status. We continually aim to promote, maintain and support equality, diversity and inclusivity for all our staff and students thereby creating a campus in which everyone feels valued and can learn or work to their full potential.
If you have a name and/or set of pronouns that differ from those that appear in your official college records, please let us know.
If something is said in class or on campus that made you feel uncomfortable, please let us know.
If you feel like your performance in the classroom or on this course is being affected by your experiences outside of class, please let us know.
Internal Contact
Orla Cullinane
Student Welfare Officer and chairperson of The Shannon College Equality, Diversity and Inclusion Committee
T: +353 91 497253
M: +353 86 0598385
Email: orla.cullinane@universityofgalway.ie
External Contact
NUI GALWAY, College of Business, Public Policy, and Law,
Vice Dean for EDI - Dr Shivaun Quinlivan,
Email: shivaun.quinlivan@universityofgalway.ie
NUI GALWAY STUDENTS' UNION
Áras na Mac Léinn, NUI Galway, Galway, Ireland
Email: studentsunion@universityofgalway.ie
You can also talk to our college counsellor
Mike Ward
Email: mike.ward@universityofgalway.ie