Defence Forces, Ireland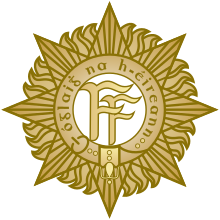 The Defence Forces, Ireland encompasses the Army, Naval Service and Air Corps and represents the legal and recognised military arm of the Republic of Ireland. Headquartered in Newbridge, Co Kildare, the Irish Defence Forces has almost 9,500 personnel, 800 civilian staff and 4,000 reservists.
The Army Ordnance Corps is solely responsible for the delivery of EOD and IEDD within the state. The Ordnance Corps has a significant involvement with both the European Defence Agency and NATO/PfP and the Ordnance School has conducted a range of courses for both organisations. The Ordnance School has prepared and delivered a food for thought paper for the EDA on Counter-adversary threat networks for period 2014-2020 in addition to assisting with the development of policy papers. DFI Ordnance Corps are recognised internationally as having significant expertise within the realm of C-IED; credit in this regard has been expressed at the highest levels of the UN, EDA and by the American President, Barrack Obama, amongst others. The Ordnance School has provided evidence on all aspects of the explosive threat to the Goldstone Tribunal (Israeli Invasion of Gaza) and to the International war crimes tribunal on events during the Balkan's conflict. In 2014 the school hosted two courses on Home-made explosives (HME) for both police, civilian and military personnel from EU pMS which were delivered by members of the US Bureau of Alcohol, Tobacco and Firearms (ATF). Members of the Ordnance Corps travel each year to various courses across the EU and US as supporting instructors.