Newly appointed Writers-in-Residence at NUI Galway
Monday, 20 January 2003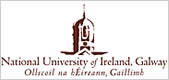 Release date: 20 January, 2003
Newly appointed Writers-in-Residence at NUI Galway
Two new Writers-in-Residence have taken up their posts within the English and Irish Departments at NUI Galway. After a full appraisal of their residency schemes, the Arts Council has devised a new structure of long-term writer-in-residency University Partnerships of two to three years duration and NUI Galway is the first university to implement this new scheme under the Council s new Arts Plan. Mike McCormack and Pádraig Ó Cíobháin are the new writers-in-residence.
Born in London, 1965, Mike McCormack has lived all his life in the west of Ireland. Educated in Louisburgh, Co. Mayo, he took a degree in English and Philosophy in NUI Galway in 1988. In 1996 he published his first book, a collection of short stories, Getting It In the Head, which won the title of 'New York Times Book of the Year' and 'Guardian Book of the Year'. This was followed two years later by his first novel, Crowe's Requiem. Both books appeared in American and Norwegian editions. Mike lives in Galway city and is currently finishing his second novel.
Novelist and short story writer, Pádraig Ó Cíobháin hails from the Corca Dhuibhne Gaeltacht in Co. Kerry and is no stranger to NUI Galway having tutored previously at Scoil na Gaeilge on campus. A novelist and short story writer, Ó Ciobháin has won prizes at the Oireachtas and at Listowel Writers Week. The Arts Council and Bord na Leabhar Gaeilge awarded him a bursary to write a Galway-based novel entitled Ré an Charbaid. His other works include Le Gealaigh, Ar Gach Maoilinn Tá Síocháin, Tá Solas ná hÉagann
Previous writers-in-residence at NUI Galway have included Cathal Ó Searcaigh, Rita Ann Higgins, John McGahern, Ré Ó Laighléis, Pat McCabe and Vincent Woods.
The purpose of the residencies is interaction between the writer and student/staff population and the community, and development of the writer s own work. Watch out for details of creative writing workshops and special readings coming up soon.
Ends
Information from: Máire Mhic Uidhir, Press Officer, NUI Galway. Tel. 091-750418
Keywords:.