NUI Galway establishes Huston Film School
Tuesday, 28 January 2003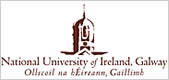 Release date: 27 January, 2003
NUI Galway establishes Huston Film School
A Gala Banquet to be held in Los Angeles on May 2nd 2003 will mark the launch of a new school of film and digital media at National University of Ireland, Galway. The school will be known as the Huston School in tribute to John Huston, one of the 20th century's most respected directors who drew much of his inspiration from St Clerans, the family home in Galway.
This major initiative represents a significant commitment by NUI Galway to the training of critically- and historically-informed screenwriters and filmmakers. The School will offer postgraduate training and education in aspects of film and digital media, with a special emphasis on the potential of new technologies for cinematic storytelling and documentary production.
The ethos of the School is one that seeks to make a virtue of Ireland's special position as a potential 'contact zone' between the disparate traditions of American and European cinema, and will foster a critical awareness of both mainstream and alternative film traditions, including those of non-western cultures. The School will seek to promote excellence in Irish screenwriting, and to explore the creative possibilities of new technologies for storytelling and representation, especially the medium of digital video. It will benefit from synergy with other developments in the university and will establish links with the existing film and creative culture of the Galway region.
The school will have a full time Director with support from Coca-Cola HBC. Programmes will commence in Autumn 2003.
The Huston Gala at Merv Griffin's Beverly Hilton Hotel in Los Angeles will bring together those associated with the Hustons, the film industry, academia and the many people who celebrate the links between Ireland and Hollywood. Income from the Gala will generate scholarship support for students.
Anjelica Huston, School Patron in welcoming the project, said that "this event recognises the deep relationships that bind Ireland and California, both past and present. St Cleran's was a major part of our family s life. The Huston School will ensure that Ireland continues to bring its many creative talents to a world audience. I am delighted to be associated with the new school and look forward to welcoming friends from all over the world for a terrific launch ceremony on May 2nd."
Dr. Iognáid Ó Muircheartaigh, President of NUI Galway said that "this is a wonderful project for the University. It is a natural for us and brings together cultural and commercial elements in a way that is highly relevant to Galway and to our world today. With the pace of change in modern technology, the University has an obligation to give a strong lead."
ENDS
Information from: Máire Mhic Uidhir, Press Officer, NUI Galway. Tel. 091-750418; Mobile 087-2986592
Keywords:.