Final Call to Job Seekers for Applications for Free NUI Galway Places
Tuesday, 23 August 2011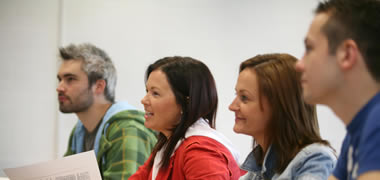 NUI Galway has issued a final call for applications to the six courses it is offering as part of the Springboard initiative. These programmes range in subject area from Environmental Sustainability, to Medical Device Science and Technology Commercialisation, to Innovation Management. All of these part-time courses are available in a modular, flexible format and can be taken via distance learning for students who are unable to attend the campus on a weekly basis.
The Springboard initiative offers free higher education for jobseekers, without affecting the social welfare benefits they receive. "Springboard is primarily designed to help people who have lost their jobs as a result of the recession, and who need to up-skill or re-skill to gain sustainable employment again", explains Nuala McGuinn, Adult Education Development Officer at NUI Galway.
"These courses would suit those who want to attain a qualification while actively seeking employment. The subject areas are directly focused on employment and the emerging skill needs of Irish industry."
While five of the six courses the University is offering as part of Springboard are level 8 and level 9, NUI Galway is also putting in place a Foundation Diploma in Science, Technology and Engineering. This level 6 programme is designed for people who have been out of the formal education system for some time and provides an ideal starting point for those wishing to embark on a longer term diploma or degree programme
NUI Galway has a long history of working with adult learners, either those approaching third-level for the first time or those returning to study. Extra supports are put in place to provide students with the additional skills, computing and study skills, which they may need as part of their studies.
All of the Springboard courses commence in early September so interested candidates are advised to check out course details as soon as possible. Details and an online application process is available on www.bluebrick.ie/springboard. Alternatively contact the Adult Education Office at NUI Galway on 091 495845.
-ENDS-
Keywords:.