NUI Galway Launches Rugby Youth Academy
Tuesday, 23 August 2011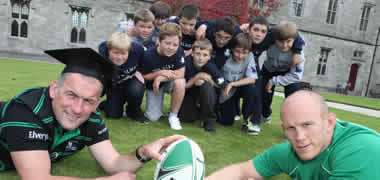 NUI Galway has announced the establishment of a Rugby Youth Academy to cater for teenagers in Galway. The Youth Academy is an integral part of the existing University Rugby club which was formed in 1874 and is a founder member of the IRFU.
Notable rugby graduates of NUI Galway Rugby Club include Ciaran Fitzgerald who captained both Ireland and the British and Irish Lions. The development of the Youth Academy, coupled with the University's Sports Scholarship, is aimed primarily at strengthening the University's AIL U20 squad in the medium-term.
According to Dr James J. Browne, President of NUI Galway: "The youth academy is a good fit for the University's outreach and community support initiatives. It is envisaged that this new academy will add greatly to the development of youth rugby in the city and its environs. It will also be of great benefit for the University Rugby Club into the future."
In its first season, the academy will cater for U13 boys only, but will expand over the next five years up to under 18's. Coaching, mentoring, and administrative resourcing will come from within the existing University Rugby Club and will be augmented by support from the mini rugby club - Na Bairneachaí (U8s to U12s) established in Barna/Knocknacarra area in 2007.
Neil Keaveney, President of Na Bairneachaí, said: "We are very excited by this new venture within NUI Galway. It builds on the hard work and community involvement in the development of Rugby in the west side of Galway city. Simply put, it is a great opportunity for more kids to play more games in what we hope will be an enjoyable yet competitive setting."
The NUI Galway Youth Academy enjoys the full support of the Connacht Branch of the IRFU who are delighted to see the expansion and high profile the game is attracting, especially in the first year of Connacht's participation in the European Rugby Cup.
Gerry Kelly, CEO of Connacht Rugby, commented: "Connacht Rugby has enjoyed huge success in the last year and we are particularly excited about this year's inclusion in the Heineken Cup. We see this development as a reflection of this success while also confirming the important role the University plays in Connacht Rugby."
Open day and registration will take place on Saturday, 3 September, in Dangan, Galway for NUI Galway Youth Academy and Na Bairneachaí. Training for U13 Boys, born in 1999, commences 17 September at 10.30am in Dangan.
ENDS
Keywords:.