NUI Galway Access Programme Annual Awards Ceremony
Monday, 5 December 2011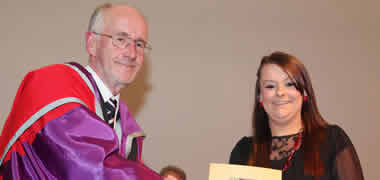 Pictured receiving a certificate from NUI Galway's Registrar and Deputy President, Professor Nollaig MacCongáil, at the NUI Galway Access Awards ceremony was Aisling Fallon from Ballybane, Galway city.
NUI Galway recently presented 85 certificates to students for successful completion of the Access courses during the academic year 2010/2011, both on campus and in Outreach Centres in Clifden and Ballinasloe.
Also receiving awards were 55 Access students who graduated with degrees in Arts, Commerce, Law, Engineering and Nursing in 2011. A further 18 students who received post-graduate diplomas in Education, Health, Arts and Business Studies and post-graduate degrees in Marketing, Social Work, Community Development and Law were also acknowledged. In addition, eight students who received postgraduate diplomas and degrees in 2010 were acknowledged at the ceremony.
In the last ten years, 390 graduates and 133 post-graduates have been admitted to NUI Galway through its Access Programme. The ceremony was to mark the achievement of those inspirational students and to commend all on their perseverance, dedication and hard work.
The function of the NUI Galway Access Programme is to address and respond appropriately to the issues of equality of access, equity of life long opportunities and responding to the issues of rural (and to a lesser extent, urban) social exclusion in the Border, Midland and Western Region and County Clare. All elements of the access programmes have important initiatives designed to give everyone a chance to benefit from third level education.
-ENDS-
Keywords:.
Author: Marketing and Communications Office, NUI Galway
« Back