Book on Monika Maron Launched at NUI Galway
Wednesday, 16 February 2011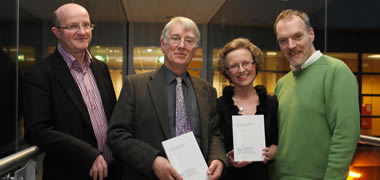 A book written by Dr Deirdre Byrnes, who teaches German in the School of Languages, Literatures and Cultures, was launched in the Moore Institute on Thursday, 10 February.
Rereading Monika Maron: Text, Counter-Text and Context
was launched by Professor Hugh Ridley, Emeritus Professor of German, University College Dublin. Monika Maron's biography charts a complex relationship with the German Democratic Republic, from initial ideological identification with the state to sustained, radical rejection. In her book, Dr Byrnes charts the development of a number of seminal themes in Maron's work: the search for an authentic form of expression; the writing and the rewriting of history; memory transmission and generational forgetting; the rupture and the ultimate refashioning of biographies in a post-GDR age. According to Dr. Byrnes: "Monika Maron's writing articulates salient aspects of her generation's social and historical experience, in particular the caesura caused by the collapse of the GDR in 1989. In my book, I set out to demonstrate the significance of her contribution to contemporary German literature." Launching the book, Professor Hugh Ridley highlighted Monika Maron's "representative function for a whole generation" and described her work as being "focused on pain, the sense of loss, the need to face up to the world".
Rereading Monika Maron: Text, Counter-Text and Context
is published by Peter Lang in the series
British and Irish Studies in German Language and Literature
. It can be ordered at
www.peterlang.com
. Further information is available from Dr. Deirdre Byrnes at 091 492014 or deirdre.byrnes@nuigalway.ie.
-Ends-
Keywords:.