International Ecocriticism Conference at NUI Galway
Monday, 30 May 2011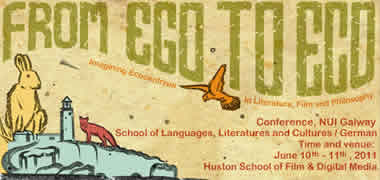 The School of Languages, Literatures and Cultures at NUI Galway will host an international conference on ecocentrism and ecocriticism entitled From Ego to Eco - Imagining Ecocentrism in Literature, Film and Philosophy. The conference will take place in the Huston School of Film and Digital Media at NUI Galway from 10 to 11 June.

For many centuries, anthropocentric world views were crucial for the implementation of nature toward man s ends and played a part in creating the multifarious imbalances that today threaten ecosystems on a global scale. In film, literature and critical thought alternatives to anthropocentrism are being outlined, sensitivities awakened towards a global eco-consciousness that pays attention to the interdependence of species and ecosystems. A shift from imagining homo sapiens at the top of a hierarchy of existence or, alternatively, at the centre of global concerns to imagining a unity of being is taking place in literature, art and film through the ages. A unique and different inventory of artistic techniques, modes of expression, structures of realising this shift towards ecocentrism go hand in hand with an academic shift of focus.

The aim of the conference is to bring together scholars from various disciplines within the Arts and Sciences and the Humanities to reflect on these changes and on ways in which works of art and mind break free from anthropocentric paradigms. Artistic visions and theoretical concepts that place humans in neighbourly relations with the 30 million surrounding species shall be central but also the discontents and possible dangers inherent in ecocentrism.

Keynote speakers at the conference will include: Professor Lawrence Buell, Powell M. Cabot Professor of American Literature, Harvard University; Professor Hubert Zapf, Professor of American Literature, University of Augsburg, Germany; and Dr Thomas Duddy, Lecturer of Philosophy, NUI Galway.

Commenting on the upcoming conference, Dr Tina-Karen Pusse, conference organiser and Lecturer in German at NUI Galway, said, "Our conference is meant to inaugurate green studies at NUI Galway and beyond. It will be an opportunity for people from all over the world to come together and reflect upon a paradigm shift. So far Homo Sapiens was placed at the top of our concerns and the center of all our values and structures. The leading question of this conference is: How can we implement ways of thinking (and hence acting) that lead to a paradigm shift and displace the Ego from its central position? How, from within the different disciplines of the so tellingly called 'humanities' can this shift be understood and implemented? Which pieces of art, texts, ideas, can help us in this endeavour? This conference shall answer a few of these questions but first and foremost it will be an occasion of weaving a global network of scholars who have been working ceaselessly in the field of 'green studies'. We are certain that this is the way to go ahead and have already started to implement research alliances with universities such as University of Limerick and Trinity College Dublin, but also international networks with universities in Germany, Switzerland, Romania and the Czech Republic. We hope to strengthen these connections with the conference and to make NUI Galway the hub of these activities."

To register for the conference email tina-karen.pusse@nuigalway.ie or visit http://www.wix.com/nuigalway/from-ego-to-eco-conference.


-Ends-

Keywords:.