NUI Galway and GMIT sign Strategic Partnership
Friday, 6 May 2011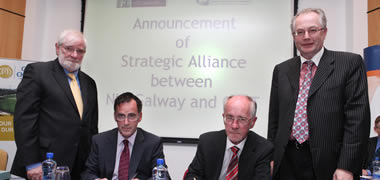 NUI Galway and Galway-Mayo Institute of Technology (GMIT) are pleased to announce a new strategic partnership to serve the educational, social and economic needs of their students and the wider regional, national and international communities.

The agreement, formally signed in GMIT this evening (Thursday 5th May), provides for collaborative opportunities in teaching and learning, research, entrepreneurship, regional development, commercialisation, programme design, distance education, and work-based learning.

Increasingly, higher education institutions are finding new ways of pooling expertise, knowledge and resources as a means of releasing new energy and vision in the national interest. This agreement has been drawn up in that spirit of co-operation and collaboration.

Both institutions will work closely together in promoting flexible learning, flexible programme delivery, student placements, internships, staff development and the development of adjunct research positions. GMIT and NUI Galway will also devise a joint Teaching, Learning and Assessment strategy to provide programmes that focus on the needs of students, the workplace and the world of professional practice in the region, nationally and internationally.

A key objective of the agreement is to ensure that research programmes are of the highest quality and delivered in accordance with best international practice. Recognising NUI Galway as the lead institution in the research domain, and the established research experience of GMIT in particular areas, both institutions will work together to develop a collaborative strategy for research. It is envisaged that research staff and students will also have access to each other's research facilities. In addition, in another very significant development, GMIT and NUI Galway will actively develop joint and dual research awards at Masters and Doctoral levels.

Both institutions are also committed to supporting the emerging vision for Galway 2040 and engaging with local businesses and the community in developing and delivering key projects to ensure that Galway continues to grow and prosper.

Speaking from the US where he is currently on University business, NUI Galway President Dr James J. Browne said:

"This partnership between NUI Galway and GMIT underlines the fact that both our educational institutions are working with the strengths and needs of our region and in the interest of the regional and Irish economy. GMIT has an excellent record in teaching and learning and NUI Galway is proud to collaborate with the Institute to support research and education at both institutions. NUI Galway is committed to building national and international alliances which will serve society, support industry and generate economic activity."

GMIT President Michael Carmody said: "I very much welcome this important and historic alliance between our two higher education institutions. Collaborations of this kind are key strategies in the future development of higher education nationally and internationally. "

"I would like to acknowledge the important contribution of GMIT Chairman Rory O'Connor whose term as Chairman ends later this month and who was instrumental in bringing this agreement to fruition." added Mr Carmody.


-Ends-

Keywords:.