Student Engagement Focus of Ninth Galway Symposium on Higher Education
Saturday, 28 May 2011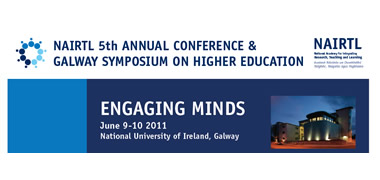 The 9th Galway Symposium on Higher Education will take place in NUI Galway from 9 to 10 June in Áras Moyola. The 9th Symposium is being jointly organised by NUI Galway's Centre for Excellence in Learning and Teaching (CELT) and NAIRTL and this year the event is also the Annual Conference of NAIRTL.

The title this year is Engaging Minds. Active Learning, Participation and Collaboration in Higher Education and will focus on aspects of student engagement in the learning process.

Higher Education institutions are increasingly focusing on the importance of active student engagement in the learning process, moving away from the traditional stereotype of passive lectures and examination towards processes that involve participation, challenging intellectual problems, imaginative use of technologies and new approaches to large classes. Learners who take responsibility for their own development and who feel a sense of purpose and ownership are more likely to meet the aims of a graduate population that has high levels of critical thinking, flexibility and creativity. This international conference will address these topics.

The two day symposium will be comprised of short papers, presentations, workshops, panel discussions and posters on themes such as students as co-creators of knowledge, civic engagement and social responsibility, the first year experience, engaging large classes and technology enhanced learning.

Keynote speakers will include: Dr Lesley Gourlay, Director, Centre for Academic and Professional Literacies, University of London; Dr Derek Bruff, Assistant Director, Center for Teaching, Vanderbilt University, Nashville, USA; Elisabeth Dunne, Head of Project Development, University of Exeter; Professor Mike Neary, Dean of Teaching and Learning, University of Lincoln; Professor Guy Claxton, Co-Director Centre for Real-World Learning and Professor of Learning Sciences, University of Winchester; and Dr Paul Kleiman, Deputy Director of PALATINE and Senior Research Fellow, Lancaster University.

Dr Iain Mac Labhrainn, Director of CELT said: "The theme of engagement touches on the very heart of what a 'higher' education should be about. It's about engaging the mind, experimenting with new ideas, critically engaging with the world around us, laying the foundations upon which to build a better future, nurturing individual creativity and collective responsibility, and hopefully about having some fun along the way."

Registration for the event is on the NAIRTL website NAIRTL website . The twitter hashtag for the event is #nairtl11.


-Ends-

Keywords:.