New Series of Public Talks on Sports Technology
Wednesday, 2 November 2011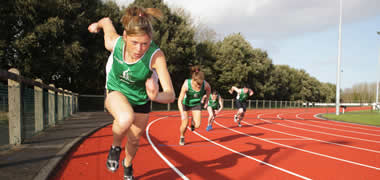 NUI Galway is pleased to announce a series of public talks on Sports Technology, commencing on Tuesday, 8 November at 6pm. In recent years a clear trend has developed in sport toward the increased use of technology to monitor and enhance elite sports performance. The series of talks, which are free and open to the general public, will cover a broad range of sports from elite cycling, running, swimming, to Gaelic games, as well as referring to the casual exerciser.
The first event, which takes place in room 2002 of the new Engineering Building, is called 'The Age of the Virtual Trainer'. NUI Galway's Shane Lowe will focus on the emergence of new exercise monitoring technologies in the world of exercise and fitness. Whether the goal is to manage weight, maintain health or to improve fitness or sport performance, increasing physical activity has multiple health benefits. A significant challenge for most people is to adhere to an exercise regime. Keeping track of how well you are progressing with your exercise programme is one way to increase adherence to the programme and to also enhance the outcomes.
Shane Lowe is currently in the third year of his PhD studies in the Bioelectronics research cluster of the National Centre for Biomedical Engineering Science at NUI Galway. The focus of his research is on the development of wearable electronics for the monitoring of everyday physical activity and specifically its application with older adults.
"In the past, detailed monitoring of exercise performance was reserved for those who obtained the services of a personal trainer. However, with the availability of smart phones and low cost sensing technologies, a new era in exercise monitoring has begun. Exercise technologies now allow close monitoring of performance including changes in heart rate, running speed, adherence to your recommended training zone etc."
The range of these technologies now available will be discussed and compared and Shane Lowe will comment on how he sees these systems evolving in the future.

The series of Sports Technology talks is being organised by Professor Gearóid Ó Laighin, Course Director of NUI Galway's degree programme in Sports & Exercise Engineering. His students are being given the skills and expertise to design innovative sports systems and devices.
According to Professor Gearóid Ó Laighin: "Sport plays a central role in Irish life - it brings joy to us as we celebrate our teams' success and perhaps brings despair at their failings! Sport brings communities together, can galvanise a nation to overcome its difficulties and provides endless material for lengthy discussion and debate. A new wave of technologies is transforming sports performance, training and preparation. We welcome all with an interest in these developments to come to our series of talks to learn more."
For more information on the Sports Technology talks, which are supported by the Institute of Electrical & Electronic Engineers, visit www.ExerciseEngineering.com or call 091 492728.
-ends-
Keywords:.
Author: Press and Information Office, NUI Galway
« Back