Prestigious Scholarship for NUI Galway Economics Student
Wednesday, 30 November 2011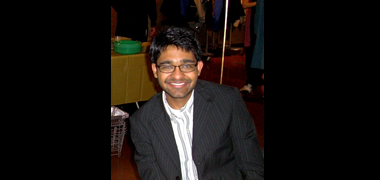 Mohit Agrawal, an NUI Galway economics student, has been awarded one of the most prestigious scholarships in the world, a Rhodes Scholarship to study economics at Oxford University. Mohit is currently studying for an MA in Economic Policy Evaluation and Planning at NUI Galway and plans to begin his studies in Oxford in September 2012.
Born and raised in West Lafayette, Indiana, in the US, Mohit enrolled in NUI Galway during September 2011, after being awarded a George J. Mitchell Scholarship, allowing him to do a postgraduate degree at any university on the island of Ireland. Mohit chose the NUI Galway programme because he said it enabled him to further his major career goal, to combine a background in mathematics and politics to help craft economic policy. Mohit completed his undergraduate degree in mathematics and computer science at Princeton University in the United States.
Mohit's interests and achievements extend well beyond the classroom. At Princeton, for example, he was a prominent member of 'Engineers Without Borders' and served as the manager of a project to build a library in Ghana. He is interested in politics and has contributed to debates at the Literary and Debating Society in NUI Galway and has also written several articles for the student newspaper SIN including some insightful pieces on the recent Presidential election.
The Head of the Economics Discipline at the J.E. Cairnes School of Business and Economics, NUI Galway, Professor John McHale, described Mohit's achievement at winning a Rhodes Scholarship as a fantastic testimony to his outstanding intellectual ability: "We were very pleased that Mohit chose the economic policy evaluation programme at NUI Galway for his Mitchell Scholarship. Mohit has been a wonderful addition to the economics discipline at this University where he has helped countless undergraduate students as a tutor for one of our main undergraduate courses as well as contributing in lectures and seminars. I have no doubt that Mohit will do extraordinary well in his future career and I am especially pleased that Mohit had decided to focus his career on economics with a special emphasis on economic policy."
ENDS
Keywords:.
Author: Press and Information Office, NUI Galway
« Back