2011 Galway Science & Technology Festival Programme Launched
Tuesday, 25 October 2011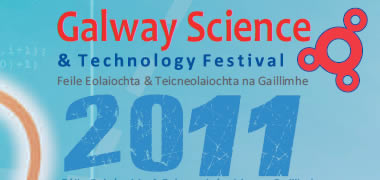 The 14thannual Galway Science and Technology Festival was launched today at a function in the Orbsen Building in NUI Galway, by Mr Gerry Kilcommins, VP Global Operations and General Manager Medtronic. A full two weeks of events was announced, which includes shows, demonstrations and activities for primary and secondary school students and a fantastic family day out at Final Day Exhibition on Sunday, 27 November, at NUI Galway.
The Festival in its aim to increase the uptake and popularity of the STEM (Science, Technology, Engineering and Maths) subjects among young people, runs from 14_27November, and will culminate with the Festival Exhibition to be attended by the European Commissioner for Research, Innovation and Science, Máire Geoghegan-Quinn.
There is a great programme of events this year to choose from including Robert Hill's 'Celestia and Stellarium Workshops', Mr Bug returns with his snakes, cockroaches and tarantulas while Sue McGrath's show will be full of pops, bangs and fizzing craziness.
NUI Galway is running many interesting shows and events to stimulate the mind including 'Computer Game Programming with Kinect', an invitation to senior cycle Physics students to the new Engineering Building and a talk for students, parents and teachers on Cyber Bullying. The Zoology and Geology Museum will be open for tours along with Ireland's only Computer and Communications Museum.
GMIT is having an open day on Wednesday, 16 November, and tours of all facilities including science, technology and engineering laboratories will be available. There are also various interesting workshops for students including 'Modern Medicines', 'The Chemistry of Smoking Addiction and Nicotine Patches' and a 'Forensic Investigation'.
This year a 'Mentoring Program' by local engineers is available to senior cycle students looking for career advice. Engineers from over 11 different companies are participating in this initiative and will visit schools and talk to the students about subject choices they made and give practical career advice, details available on the website.
Plans have been put in place to expand the 2011 Exhibition on 27 November, with more shows and exhibition stands. There will be up to 60 interactive stands representing areas including research, education, industry and the environment. This year a booking system is in place through www.galwayscience.eventbrite.com to help people plan their day.

The Galway Science Festival is a fantastic collaboration of education, industry and government and showcasing Galway as a leader in Medical Devices and ICT.
Festival Chairman Tom Hyland said today: "On behalf of the Board of the Galway Science and Technology Festival, I would like to thank all our sponsors for their participation in the 2011 Festival – great thanks must go to Medtronic for their 10 years of outstanding commitment to this event and to the other sponsors including The Galway Enterprise Board, Discover Science & Engineering and Boston Scientific who help bring excitement and fun to science and technology for children and families across the City and County."


Dr James J. Browne, President of NUI Galway, commented: "For many years, Galway Science and Technology Festival has generated real excitement for young people about the wonders of science and technology. As a University, NUI Galway shares this belief in the importance of making science and technology attractive to the next generation. Why? Because never before has Irish industry and society depended so much on bright, talented graduates to build Ireland's capacity in technology, research and innovation. This Festival allows us in the University to open our doors, so that we can share the boundless possibilities and the sheer fun of science!"

The 2011 Programme of events is available at www.galwayscience.ie and the exhibition will open at 10am on Sunday, 27 November, 2011.
ENDS.
Keywords:.
Author: Press and Information Office, NUI Galway
« Back