Future Doctors Delve into Research Projects
Monday, 24 October 2011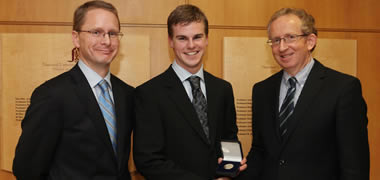 Second-year Medical student Alan Jacobsen, from Castlegar, Co. Galway, won first prize for his research into new treatments for leukaemia. He is pictured (centre) with Dr Richard Flavin and Professor Peter McCarthy from NUI Galway's School of Medicine.
Over 60 medical students at NUI Galway have completed summer research projects into a range of areas such as breast cancer, prostate cancer, stem cell technologies, diabetes and arthritis. 40 medical and scientific faculty from both within the School of Medicine and Science, NUI Galway and the affiliated hospitals (i.e. Sligo General and Letterkenny) provided supervision for these projects.
The prize for best overall research project went to second-year medical student Mr Alan Jacobsen, from Castlegar, Co. Galway. Over the summer Alan explored new treatments for leukaemia.
Students applied for external competitive funding from grant agencies such as the HRB and Wellcome Trust. In 2011, 18 students within the programme secured funding from sources external to NUI Galway. In addition, internal competitive funding in the form of Curriculum Innovation Fund and Research Support Fund stipends (13 in total) were offered to students. Finding from the projects were presented recently on campus, at the School of Medicine Undergraduate Open Day.
"This focus on research at undergraduate level is designed to develop high calibre doctors with enormous research potential. Furthermore, it may encourage the development of the next generation of physician-scientists", commented Dr Richard Flavin, Chairman of the School of Medicine Undergraduate Research Committee.
The Undergraduate Research Day was opened by Dr Armand Keating, Professor of Medicine, University of Toronto and President-Elect of the American Society of Hematology. The day also incorporated a lecture by Professor Jozef Bartunek, Consultant Cardiologist, OLV Hospital, Belgium who discussed his work with stem cells. Closing the event was the John D. Kennedy Lecture, given by Dr Ramona McLoughlin, Consultant Gastroenterologist, UCHG.
"Some students have succeeded in drafting research articles based on their work, which is a phenomenal achievement given the time constraints they are under. The general feedback from the summer scheme has been very positive and it is inspiring to see so many hardworking, inquisitive and dedicated research-orientated medical students. Many students will know present their findings at both national and international meetings", said Dr Flavin.
The focus on research at undergraduate level is part of an overall ethos at the School of Medicine to provide a holistic, involved and real educational experience. With its strong links to hospitals in Galway, Sligo, Donegal and Mayo, medical students at NUI Galway are brought into contact with patients from the earliest stages of their training. In addition, special study modules allow students to study extra modules such as Medial Electronics, sign language, sports psychology or teenage mental health promotion.
ENDS
Keywords:.
Author: Press and Information Office, NUI Galway
« Back