Major Conference to Focus on Delivery of Regional Growth through Innovation
Tuesday, 25 October 2011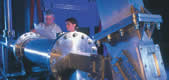 On Friday 4 November, the Border, Midland and Western (BMW) Regional Assembly and the Centre for Innovation and Structural Change (CISC) at NUI Galway will host a major conference on the contribution of regional innovation to regional and national economic development.
The conference entitled Regional Innovation – A Catalyst for Sustainable Economic Growth in the BMW Region will address how the BMW Region can build on its knowledge-based capabilities to stimulate growth and employment in high value sectors. It will focus upon demonstrating why the Irish Government needs to support regions differently, as stated by the OECD in May 2011 "regions are not countries and (Governments) cannot simply replicate national policies at a regional scale".
The conference will be of enormous interest to key policy makers, enterprise agencies, academic researchers and industry representatives who wish to engage with the issue of creating an effective regional innovation system.
Research recently carried out by the BMW Regional Assembly and by CISC at NUI Galway on regional innovation and competitiveness will be presented at the event. The keynote address will be delivered by Dr Gerhard Fuchs, University of Stuttgart, who is an international expert on Regional Innovation Systems. Peter Reilly, Research and Development Director at Valeo Vision Systems will provide an industry perspective on academic business linkages. Valeo Vision Systems is one of the world's leading manufacturers of automotive vision systems, with a base in Tuam, Co. Galway.
The outcomes of a major study completed this year by the BMW Regional Assembly on the innovation performance of the BMW Region will be presented by Dr Kieran Moylan. The report 'An Audit of Innovation in the BMW Region: An Evaluation of a Regional Knowledge Economy' sets out the key challenges and opportunities for job creation and economic growth in a range of emerging high value economic sectors. It recommends that a more explicit regional dimension should be expressed in national innovation policy and argues that regional innovation strategies can form a more effective level of implementation at the regional and local level, e.g., in the medical devices sector in the Western region.
Mr Gerry Finn, Director of the BMW Regional Assembly stated that: "There is now a much greater appreciation and understanding of the important role that effective regional innovation strategies can play as a catalyst in driving regional and national competitiveness, for the benefit of the entire economy."
Speaking in advance of the conference, Dr James Browne, President of NUI Galway, said: "The West of Ireland region has unique advantages which offer rich potential. Recent work carried out by researchers at CISC highlights the innate competencies of the region and points out how a focus on creative and innovative pursuits has the potential for significant jobs growth in the region. This is a timely conference that will help us better define our own path towards economic and social sustainability".
The conference takes place in the Bailey Allen Hall at NUI Galway on Friday, 4 November and further information is available at www.conference.ie and www.bmwassembly.ie
ENDS
Keywords:.
Author: Press and Information Office, NUI Galway
« Back