Experts Gather to Plan for 'Gold Rush' to the Bottom of the Ocean
Wednesday, 4 April 2012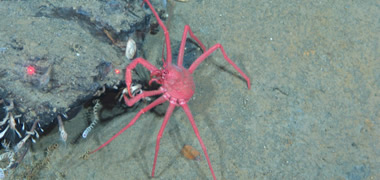 'Hydrothermal vents support an array of unique life forms'
Researchers at NUI Galway's Ryan Institute are at the centre of conservation efforts in relation to mining for precious minerals at the depths of our oceans. In this new 'gold rush', the ecological assessment of the effects of mining operations will be key to sustainably exploiting resources at these very important habitats, according to organisers of a major workshop next week.
The Ryan Institute's Patrick Collins and Dr Bob Kennedy have scheduled a high-level international workshop from 10-12 April with the aim of standardising methods used for assessing the ecological impacts of commercial mineral extraction at deep-sea hydrothermal vents. Sometimes called 'black smokers' these volcano like structures sit thousands of metres under the sea and produce "seafloor massive sulphides", sediments that are very rich in copper, zinc, gold and silver. They also support an array of unique life forms.
The minerals found at hydrothermal-vents are increasingly in demand, for potential uses in the production of superconductors, precision lasers and other electronics.
"We are seeing a gold rush to the bottom of the sea", says Dr Bob Kennedy, an expert in benthic (sea floor) ecology with the Ryan Institute at NUI Galway. "Valuing the goods and services provided by ecosystems is always a difficult compromise. Mining hydrothermal vents involves the removal of the vents and adjacent seafloor massive sulphides using cutting and suction devices to transfer the ore to barges at sea. Where mining occurs, the habitat will be completely removed and there will be substantial disturbance to the adjacent area."
The workshop, VentBase, is supported by the International Seabed Authority and InDeep, the international network for scientific investigations of deep-sea ecosystems. VentBase is set to attract academics and high-profile delegates from all over the world, including delegations from government bodies such as IFREMER in France, JAMSTEC in Japan, KORDI in Korea and NIWA in New Zealand. Commercial mining companies will also attend, with a presentation by Nautilus Minerals, the first company to actually begin mining.
At present there is just one site, Solawara 1 near Papua New Guinea, where mining is being actively developed. It has led to many calls in the scientific community and general press for a halt to mining at hydrothermal vent sites because of their high biodiversity value.
A biologist with the Ryan Institute at NUI Galway, Patrick Collins was part of an expedition last summer which discovered a new hydrothermal vent site in the Atlantic. While actual mining is probably a decade away in the North Atlantic, he believes this is the ideal time for Ireland to take a central role in managing this unique biological resource.
He comments: "From a conservation perspective, vents are one of the last remaining wild frontiers. We are only beginning to scratch at the surface of this enormous biotechnological resource. Animals at these sites have adapted to a very harsh, toxic and radioactive environment. Their tissue often has increased regenerative powers and may hold secrets to new medicines and useful materials.
Life at these depths is not based on photosynthesis, but on turning energy from the earth's core directly to biomass. This may be a good model for what life on other planets may be like. We should value giant tubeworms and bizarre blind shrimp for their quasi alien nature, and for reminding us that there is always the possibility of innovation in solving any problem, even if it seems like alchemy at first glance."
Despite there being data available from many cruises to investigate hydro-thermal vents, the information is often collected in a different way by each operator, meaning that it is very hard to compare vent sites to each other and to use evidence to make general statements about important processes at vent sites. The organisers of VentBase hope the event will help to develop protocols for the collection of rigorous and comparable evidence from many hydrothermal vents sites around the world.
"The pulse of progress in the deep-oceans quickened after the announcement of James Cameron's successful solo-expedition to its deepest recess," says Dr Kennedy. "Cameron was only the third human to touch down and the first to film the 11km depths of the Marianas Trench. To put this in context, four times as many people have walked on the moon and over five hundred people have been into space. The deep sea is largely unknown territory and we must consider many ecological aspects before we throw open the doors to mining."
To listen to Patrick Collins on Radio One click here
ENDS
Keywords:.
Author: Marketing and Communications Office, NUI Galway
« Back