NUI Galway Announce Pat Sheeran Scholarship for MA in Film Studies
Monday, 30 April 2012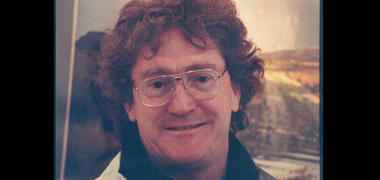 The Huston School of Film & Digital Media at NUI Galway has launched the Pat Sheeran MA in Film Studies Scholarship. All students applying to the MA in Film Studies programme in the coming year will be considered for this scholarship, valued at €2000, based on their application and supporting documentation.
The scholarship has been established to mark the substantial contribution of the late Professor Sheeran to the development of Film Studies in NUI Galway and the establishment of the Huston School of Film & Digital Media. A vital and inspirational member of the English department, Professor Sheeran's publications included a seminal study of the John Ford classic, The Informer (1935), published by Cork University Press shortly after his untimely passing in 2001. He was also co-writer of the Irish feature film The Fifth Province (1997) and initiated the Galway Film Project that laid the groundwork for the establishment of the Huston School in 2003.
According to MA in Film Studies Programme Director, Dr Seán Crosson: "This scholarship provides a great opportunity for students interested in furthering their knowledge and employment prospects in a wide range of film-related careers or in enhancing their potential for undertaking further research at PhD level through the completion of our MA in Film Studies. It is also an opportunity for us to recognise the huge contribution Professor Sheeran made to students and colleagues in NUI Galway before his untimely death."
The MA in Film Studies (Film, Culture and Society) emphasises the relationship between film and society while viewing the medium as a unique point of contact between culture, politics and social life. The programme is taught by leading film studies academics who have made substantial contributions to film studies inIrelandand internationally. Core modules in film history and theory examine fundamental issues in film while options allow students to focus on specific areas, including Irish film, Film in the Digital Age, and Gender & Sexuality in Cinema.
Previous graduates of the programme have acquired positions in an array of film-connected areas, including lecturing, teaching, programming and exhibition, curatorial work, and arts journalism. Former Film Studies graduate and current Galway Film Fleadh programmer, Gar O'Brien, says: "Any expectations I might have had would have proven insufficient for the breadth and scope of the MA in Film Studies programme at Huston. I found myself in a class of like-minded individuals where we were guided, supported and encouraged by the staff there, not only to learn about everything from genre and the auteur theory to the relationship between situationist politics and art cinema, but to find our own voice and outlet for our passion for cinema. This had a profound effect on me and, without any hyperbole, it is fair to say that this course represented a major turning point in my life."
A unique aspect of the Huston Schoo is the pioneering suite of postgraduate programmes the school offers, including in Screenwriting, Production and Direction, and Digital Media, as well as Film Studies, and the connections the school encourages between students in each of these areas. This includes the sharing of modules and also the impressive array of world renowned visitors and guest lecturers, open to all programmes, during the year. Previous visitors and/or guest lecturers have included Roddy Doyle, Laura Mulvey, Fionnula Flanagan, Lenny Abrahamson, Diane Negra, James Cromwell, John Boorman, Evan Goldberg, Gabriel Byrne, John Carney, Patrick McGilligan, Noel Burch, Mike Figgis, Brian Winston, Christopher Frayling and Victor Perkins.
Building on the success of TG4 and Irish-language film production over the past ten years, the programme also includes an Irish-language option module (the first of its type on an MA in Film Studies programme in Ireland), 'Scéalta Scáileáin na Gaeilge', which focuses on the history of screen production in the Irish language and expands students' employment prospects in the growing area of Irish- and English-language film and television.
All applications to the MA in Film Studies should be made online at www.pac.ie/nuigalway
Further Information on the MA in Film Studies is available at http://www.filmschool.ie/courses.php?id=3
ENDS
Keywords:.
Author: Marketing and Communications Office, NUI Galway
« Back