Fujitsu Announces Significant Research Programme with DERI at NUI Galway
Thursday, 19 July 2012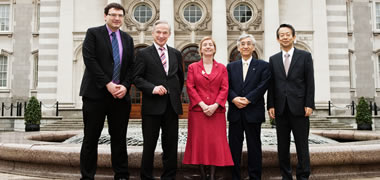 Prof Stefan Decker, Minister Richard Bruton T.D., Fujitsu's Regina Moran and Tatsuo Tomita, and Ambassador Chihiro Atsumi.
Fujitsu Ireland today announced that Fujitsu Laboratories Ltd., a wholly owned subsidiary of Fujitsu, the global ICT giant, will begin a significant investment in a research programme with Digital Enterprise Research Institute (DERI) based in NUI Galway. The research will be conducted in the area of Networked Knowledge, identifying new models and commercial opportunities for exploiting the vast quantities of static and dynamic data on the Internet, making it more valuable to end-users. The programme has been supported by the Government through IDA and Science Foundation Ireland.
Tatsuo Tomita, President of Fujitsu Laboratories Ltd., commenting on the announcement said, "Fujitsu aims to enable a 'Human Centric Intelligent Society' for which Fujitsu Laboratories conducts R&D of advanced technologies to generate value by linking individuals, things, and information, and will leverage such created value to conduct R&D of advanced technologies to offer inspiration, discovery, reliability, and growth. Big data will be the foundation for enabling such a society, and we at Fujitsu view as essential the data processing of big data - in other words, the gathering, semantic analysis, and categorisation of big data. This joint research collaboration with DERI featuring large-scale research resources in the field of Semantic Web offers new R&D opportunities and represents a step forward toward the realization of a Human Centric Intelligent Society envisioned by Fujitsu."
Minister for Jobs, Enterprise and Innovation, Richard Bruton TD, said: "Key to the Government's plan to get growth and jobs back into the economy again is a determination to ensure that we get a better commercial return from State-funded research. That is why the recent Research Prioritisation exercise focused on turning good ideas into good jobs by selecting a small number of areas where investment will be targeted.
"Future networks is one of the areas selected, and today's announcement that world-leading company Fujitsu is investing in industry-led research activity in this area shows what is possible. I commend IDA and Science Foundation Ireland on their work which has enabled today's announcement. I am determined that, through continued implementation of the Action Plan for Jobs, industry-led research in the priority areas will see more commercialisation and ultimately more jobs for Ireland."
Commenting on how this announcement will impact positively on Ireland, Regina Moran, CEO of Fujitsu Ireland said, "The aim of the research programme is to ensure that the results it delivers are the seeds for the innovation of commercial services and products right here in Ireland. If Ireland is to succeed in being a leader in technology innovation, investment in world-class research programmes such as this, here in Ireland, are critical. We cannot stand in the wings waiting for innovations elsewhere in the world to reach us, we need to demonstrate leadership."
The research will be led by Professor Stefan Decker, Director of DERI at NUI Galway and one of the leading scientists in the Semantic Web field. He and the research team will be investigating models and approaches for integrating and validating data available on the Internet with a view to enabling innovative applications and businesses to be designed and brought to the market across numerous industries.
Professor Stefan Decker said: "There was an immediate meeting of minds when we met with the team from Fujitsu. Their vision around human centric computing has great synergies with our research on the Semantic Web. This programme will create high-end research jobs in Ireland, adding to our team of scientists here. With a strong focus on innovation and research, we expect that more job opportunities will arise as the research progresses."
Welcoming the investment, Barry O'Leary, CEO IDA Ireland said "I would like to offer Fujitsu Ireland my congratulations on securing this important R&D investment from Fujitsu Laboratories. The complexity of the project is a key endorsement of the calibre of personnel working in the Irish operation and further solidifies the company in Ireland."
This research programme with DERI will begin in July 2012.
-ends-
Keywords: Press.
Author: Marketing and Communications Office, NUI Galway
« Back