Irish Cancer Society Announces Dr Róisín Dwyer as Winner of first 'Researcher of the Year' Award
Thursday, 15 March 2012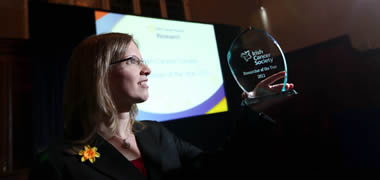 Dr Róisín Dwyer
NUI Galway breast cancer researcher, Dr Róisín Dwyer, was announced the first 'Irish Cancer Society Researcher of the Year' last night at a special Celebration of Research which took place in Dublin's Bewley's Hotel. Dr Dwyer scooped the top prize out of three shortlisted candidates for her research that investigated the potential of adult stem cells as vehicles for targeted delivery of therapeutic agents to breast tumours, which aims to significantly reduce tumour growth.
Dr Dwyer, is a postdoctoral research fellow in the Discipline of Surgery at NUI Galway with the support of the National Breast Cancer Research Institute, and has worked on projects funded by the Irish Cancer Society.
Congratulating Dr Dwyer, NUI Galway President Dr Jim Browne said: "This is a wonderful endorsement of the work underway at NUI Galway in the area of cancer research and regenerative medicine. I congratulate Róisín on her award and I look forward to new research developments in these areas in order to support innovative interventions and better outcomes for patients and their families. Our translational approach is designed to see research moving from 'bench to bed-side' and this award-winning work by Dr Dwyer will, I hope lead to further success in the battle against breast cancer."
Dr Dwyer was chosen as the winner for her outstanding research entitled, 'Adult Stem Cells: Have Tumour? Will Travel' which used Mesenchymal Stem Cells (MSCs) or adult stem cells that play an important role in wound healing and tissue generation, to deliver anti-cancer drugs directly to tumours. The study which tracked the migration of the MSCs and used them to activate tumour-killing drugs, resulted in a significant reduction in tumour growth, with no negative side effects observed. The ability to track MSC migration non-invasively before therapy is a major advantage to this novel approach for breast cancer therapy.
Speaking at the ceremony, Dr Dwyer said: "I am honoured to be announced the first Irish Cancer Society Researcher of the Year. The Society has been extremely supportive of my research project from the outset and I'm very grateful for their funding of this project, without which this study would not have been possible. It's my hope that this research, in addition to the research projects shared by the other Society scholars, will one day help change the lives of cancer patients for the better in Ireland."
Professor John Fitzpatrick, Head of Research at the Irish Cancer Society, said: "We celebrate, in particular, the outstanding results arising from Dr Dwyer's research which shows promising data that supports the viability of using this MSC approach as a novel therapy for breast cancer. Last year, a total of 64 publications were produced from Irish Cancer Society-funded research, with 47 of these describing new research discoveries. These results were published in a range of high impact international journals, which means that the research being done here in Ireland is having a global impact on cancer."
-ENDS-
Keywords:.
Author: Marketing and Communications Office, NUI Galway
« Back