€1.1 Million in EU Funding to Research Creative Economy
Thursday, 29 November 2012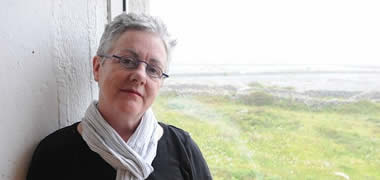 Garry Hynes
Druid's Garry Hynes to Launch Project for the Whitaker Institute at NUI Galway
Small and medium enterprises with creative offerings encouraged to participate
Today (Thursday 29 November) Druid's award winning director Garry Hynes will launch the Creative Edge project. The Whitaker Institute for Innovation and Societal Change will lead the project which will help creative businesses in Europe's Northern Periphery to export to new markets and nurture emerging creative talent.
The project received €1.1 million in funding through the European Union's Interreg Initiative under the Northern Periphery Programme (NPP) and brings together universities, development agencies and industry bodies from Ireland, Northern Ireland, Finland and Sweden.
The main objectiveof the Creative Edge project is promote the active participation of local creative organisations and businesses in global markets while also aiding them in their ability to attract and utilise local emerging creative talent in these markets. This is important as the creative economy is increasingly seen to be a major area of growth in the coming decades for rural peripheral regions. Studies continue to show how the creative sector is a leading indicator of global growth. The cultural and creative sector is globally one of the fastest growing. Estimates value the sector at 7% of the world's GDP and forecast 10% growth per year[1].
According to NUI Galway's Dr Patrick Collins lead researcher on the project: "When you look at the emerging trend of increased demand for goods and services that are authentic, sustainable, and that tell a story, you are looking at the growth of the creative economy. The west of Ireland, and other regions on the edge of Europe stand to gain from the promotion of small and medium enterprises with creative offerings."
The project itself has grown out of direct consultations with the Creative Industries across the NPP region. Of particular policy relevance were the constraints faced by new and established creative industries in the NPP region. Consultation with the sector across a variety of disciplines, from craft to App development, showed that most people working in the creative sector found themselves confined by their inability to access international markets and the inability to share information and learn from contemporaries here and abroad.
The project is now looking for the active participation of 'Creatives' located in the west of Ireland. Dr James Cunningham, Director of the Whitaker Institute called on local creative businesses and individuals to engage with the project. "This work is built on addressing the needs of the creative sector, needs change and we want to keep abreast of those changes. We are therefore actively encouraging creatives to engage with us and with our project partner in the region – the Western Development Commission. The incentive is that this project will help them develop as an individual and / or company and opportunities to engage with creative industries in Northern Ireland, Finland and Sweden."
For more information, please visit www.nuigalway.ie/whitakerinstitute or www.creative-edge.eu
-ends-
Keywords: Press.
Author: Marketing and Communications Office, NUI Galway
« Back