NFB signs Four Memorandums of Collaboration with Indian Institutes of National Importance
Tuesday, 6 November 2012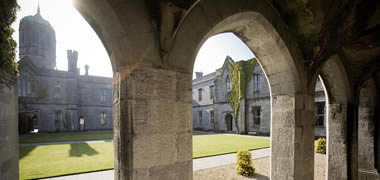 Ireland-India research relations have been further strengthened by the signing of agreements between the Network of Excellence for Functional Biomaterials (NFB) at NUI Galway and four Indian institutions. Memorandums of Collaboration (MOC) have been agreed between NFB and the institutes, all four of which are instrumental in supporting the medical device and biotechnology sectors in India.
NFB, which was established with funding from Science Foundation Ireland (SFI) under the Strategic Research Cluster Programme, conducts research on biomaterials, developing technologies for use in clinical applications in the fields of orthopaedics, soft-tissue healing and neural and cardiovascular regeneration.
It will now collaborate with colleagues in: The Materials Research Centre at the Indian Institute of Science, Bangalore; the Indian Institute of Technology, Kanpur; the Indian Institute of Technology, New Delhi; and the Sree Chitra Tirunal Institute of Medical Science and Technology, Trivandrum.
The four institutes are part of the 'Institutes of National Importance' (INI), a status conferred by an act of Indian parliament to higher education institutes which 'serve as pivotal players in developing highly skilled personnel within the specified region of the country/state'. INI's receive special funding and recognition and the Indian government has awarded this status to just 39 institutions.
The MOC recognises the benefits of increased cooperation and communication within the international community of public health research and will establish a relationship which will encourage such cooperation. Professor Abhay Pandit, Director of NFB at NUI Galway said that: "The agreement with key institutes in India will facilitate the establishment of student and faculty exchanges, research collaboration and the co-development of biomaterials and tissue engineering related projects. A strong emphasis will be placed on translational activities and the commercial exploitation of the developing technologies."
The exchange will develop stronger links with the international community and will result in the recruitment of high calibre students, as INI's get India's top graduates. The collaboration will also enable the leveraging of research funding through Indian funders and the involvement of the NFB will aid in creating the critical mass of biomaterials translation in Ireland.
-Ends-
Keywords: Press.
Author: Marketing and Communications Office, NUI Galway
« Back