Over 20,000 Attend Galway Science & Technology Festival Exhibition
Tuesday, 27 November 2012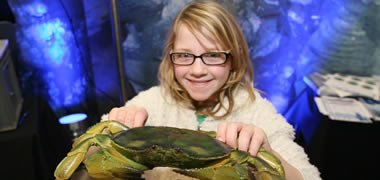 The 15th Galway Science and Technology Festival, part of National Science Week and sponsored by Medtronic Galway saw over 20,000 visitors attend the Final Exhibition Day at NUI Galway on Sunday (25 November).
Professor Pat Fottrell, Chairman of Science Foundation Ireland was the Festival's special guest who visited exhibits accompanied by Dr Jim Browne, President of NUI Galway; John McNamara, Research & Development Director of Medtronic; Professor Tom Sherry, Dean of Science NUI Galway; Michael Carmody, President of GMIT; Dr Des Foley, Head of Science & Research, GMIT; and Tom Hyland, Chairman of Galway Science & Technology Festival.
Thousands of families and children enjoyed over 80 interactive stands representing areas including research, education, industry and the environment at the Bailey Allen Hall and Orbsen Building. Visitors took a tour of the new Engineering Building, Zoology and Marine Biology Museums, while 20 fun shows for families took place in the IT Building, Aula Maxima and the Arts and Science Concourse building at NUI Galway.
Up to 20 Primary and Secondary Schools exhibited stands covering Life Science, Technology and Physics and Chemistry themes with prizes being presented to the overall winners from Milltown N.S, Galway Educate Together N.S. and Inis Meain N.S. for most creative exhibits in each category.
Brendan Smith, Community Education and Outreach Officer for the Digital Enterprise Research Institute at NUI Galway, was presented with the Science Person of the Year Award at the Festival Exhibition on Sunday for his outstanding contribution in the field of Science & Technology.
Festival Sponsors provided jaw-dropping, high-tech exhibits for young people to interact with including Medtronic, Galway Enterprise Board, NUI Galway, GMIT, Cisco, Boston Scientific, Avaya, SAP, Covidien, Hewlett Packard, Creganna, The Marine Institute and Galway County Council.
Medtronic's exhibit focused on Innovation, with engineers demonstrating how to get from Idea to Product and all the steps in between. They also showcased products for the treatment of Coronary Artery Disease and Hypertension, and provided a fun Games Corner where children were invited to test their manual dexterity with lots of helpful people from Medtronic on hand to guide them through it.
John McNamara, Director of Research & Development at Medtronic commented, "Medtronic became the main sponsor of the Galway Science and Technology Festival over ten years ago. Since then, we are delighted to have experienced the journey that has seen the event evolve and flourish into one of the highlights in the calendars of the educational and science communities. This year's theme is "Everyday Experimenting" and experimentation is something that makes Science and Technology so fascinating. Engaging the younger generation throughout this festival about the wonders and possibilities of Science and Technology will help ensure we have the pool of talented scientists and engineers so necessary for Ireland's future success as a nation. I have no doubt today's Exhibition will generate lots of ideas and open minds to the many great possibilities and opportunities out there."
The Computer & Communications Museum of Ireland provided a fascinating insight into advances in communications and computing through the years. Hewlett Packard joined the Coderdojo Galway members in the Museum and demonstrated coding. Young people crowded around the Boston Scientific stand learning about the technology behind Angioplasty and Balloon Formation and tried their hand at the Guidewire Tracking Challenge for a chance to win an iPad Nano every hour.
NUI Galway had a number of exhibits including a H-Racer and Solar Hydrogen Station. The H-Racer is the smallest and coolest hydrogen fuel cell car in the world. Visitors got to witness the power of new energy technology in the palm of their hand. The car does not need batteres and uses a real fuel cell and its own on-board hydrogen storage system. The Hydrogen station will provide the H-Racer with an unlimited supply of clean energy. To create free hydrogen fuel at the flick of a switch, water was added to the station's tank while fuelling was animated by a special blue light display.
GMIT displayed a number of interactive Science and Technology exhibit stands to mark their 40th Anniversary. Exhibit themes included How Engines Work where visitors saw how different engine types work with interactive models on display as well as touch screen animations. Energy Engineering demonstrated how energy management is a vital part of everyday life and how energy can be harnessed from the sea, the sun and the wind.
Family fun shows were a huge hit that included Black John The Bogus Pirate, a cartoon workshop aimed at teaching children of all ages about marine environment while having fun. K'nex Roadshow, based on a dynamic open ended spatial building system, Mr Bug with Matt Lewis allowed children get up close to friendly tropical animals and Killaloe Exploration Dome, a mobile planetarium designed to explore science, astronomy, geology and geography in a fun and interactive way. True Physics Show was an interactive hands-on science show where students participated in launching rockets and flying helicopters and Sue McGrath's Chemistry Show consisted of wacky experiments like super foams, colour changes and disgusting slime.
Galway Science and Technology Festival Chairman, Tom Hyland commented, "On behalf of the Board of the Galway Science and Technology Festival, I would like to thank our main sponsor Medtronic and all of our partners who have contributed to the growth and development of this Festival into a very significant vehicle for the promotion of the Science, Technology, Engineering and Maths subjects to our young people and help bring excitement and fun to Science and Technology for children and families across the city and county."
To view photos and videos from the Exhibition visit www.galwayscience.ie
ENDS
Keywords: Press.
Author: Marketing and Communications Office, NUI Galway
« Back