NUI Galway Researchers Win Top Prizes at Irish Pain Society Conference
Thursday, 25 October 2012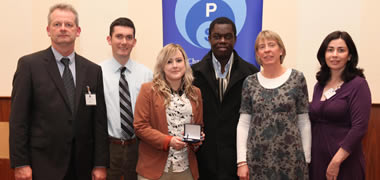 : At the recent Annual Scientific Meeting of the Irish Pain Society were (l-r): Dr Ray Victory, President, Irish Pain Society; Dr David Finn, Lecturer in Pharmacology and Co-Director of the Centre for Pain Research, NUI Galway; Elaine Jennings, Researcher at NUI Galway and winner of the Pain Research Medal; Dr Bright Okine, Researcher at NUI Galway and third prize recipient; Susan Murphy of UCD and second prize recipient; and Dr Brona Fullen, Lecturer in Physiotherapy, UCD.
Researchers from NUI Galway received prestigious prizes for their research posters presented at the Annual Scientific Meeting of the Irish Pain Society, held in Galway recently.
Elaine Jennings won first prize and the Pain Research Medal for her research on the impact of stress on pain and associated alterations in the body's so-called endocannabinoid system.
Dr Bright Okine won third prize for his characterisation of changes in a nuclear receptor signaling system during pain. Both researchers work within Pharmacology and Therapeutics and the NCBES Centre for Pain Research at NUI Galway under the supervision of Dr David Finn and Dr Michelle Roche.
The winning research projects were funded by Science Foundation Ireland and the Irish Research Council for Science, Engineering and Technology. The research competition was judged by a panel of international experts who commended the high quality of the research.
NUI Galway's Centre for Pain Research has an impressive track record in this competition, winning the Pain Research Medal on five occasions in the last six years. Leading experts on the assessment and management of headache and pain affecting the face and mouth attended the Annual Scientific Meeting. Coinciding with the Global Year Against Headache, the meeting heard about new advances in the diagnosis and treatment of common, but often debilitating conditions such as migraine and less common conditions such as trigeminal neuralgia which is associated with severe facial pain. Clinical experts and scientists from a range of professional disciplines such as pain medicine, surgery, nursing, physiotherapy and psychology presented their research findings to an audience of scientists and health practitioners.
Dr David Finn, Co-Director of NUI Galway's Centre for Pain Research and member of the Irish Pain Society's committee, said: "We are very pleased that the meeting in Galway was so well-attended. The quality of the presentations was excellent and we are particularly pleased to see these prizes awarded to researchers at NUI Galway's Centre for Pain Research."
-ENDS-
Keywords: Press.
Author: Marketing and Communications Office, NUI Galway
« Back