Top Business Junior Certificate Students Quizzed at NUI Galway
Tuesday, 23 October 2012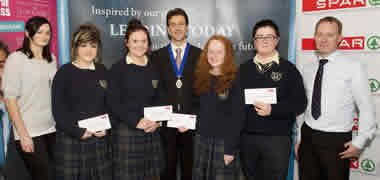 (l-r): Brian Duffy, CIMA President; students Lorraine Feehily, Kaley Omen, Emma Helebert, Tara Mathews and David Martin from Seamount College, Kinvara, Co. Galway; and Padraic de Burca, J.E. Cairnes School of Business and Economics, NUI Galway
The Chartered Institute of Management Accountants (CIMA), Business Studies Teachers Association of Ireland (BSTAI) and NUI Galway Western Region Schools Quiz took place recently in the J.E. Cairnes School of Business and Economics at NUI Galway. Sixteen schools, with a total of 28 teams took part and competed from all over the west, to determine who would represent the region in the National Finals in March. The table quiz was held for Junior Certificate students of Business Studies.
Brian Duffy, Chairperson CIMA West of Ireland Branch, said: "At CIMA our relationships with education providers have always been crucial. We are delighted to have a leading role in this quiz which showcased the talents of second level business students in the West of Ireland."
Professor Willie Golden, Dean of the College of Business, Public Policy and Law at NUI Galway, said: "NUI Galway works closely with its regional hinterland and this is nowhere more evident than in the J.E. Cairnes School of Business and Economics. A defining part of all our student courses is the engagement with the local community. Working with the BSTAI and CIMA allows us to engage with second level students and foster their interest in business studies. I have no doubt that many of these students attending the event, will be amongst our leaders of the future."
Jennie Harrington, President of the BSTAI, commented: "I am delighted that so many business studies students took part in the CIMA Schools quiz. It is an opportunity for students to have fun while also revising for their Junior Certificate exam. I would like to thank CIMA for all their work in organising the quiz."
The winners on the night were Seamount College, Kinvara, Co. Galway, who took first place. They were followed closely in second place by Dominican College, Taylors Hill, Galway. Third place went to Presentation College, Athenry, Co. Galway.
The top three teams from the regional final will now go on to compete in the national finals, which will take place in March of next year.
-ENDS-
Keywords: Press.
Author: Marketing and Communications Office, NUI Galway
« Back