EU Commissioner to Open Sea2Sky
Tuesday, 18 September 2012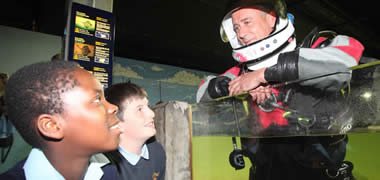 The programme for NUI Galway's Sea2Sky , which takes place on 28 September, was officially launched at the Galway Atlantaquaria today. Participating were Caleb Fapohunda and Rory O'Connor from St. Pat's Boys School.
Máire Geoghegan-Quinn, European Commissioner for Research, Innovation and Science, will officially open the Irish segment of European Researchers Night, it was announced today.
The event takes place on Friday, 28 September, across 800 venues in 320 cities. In Ireland, festivities take place in Galway and Cork, through a celebration called Sea2Sky, organised by NUI Galway.
Celebrating the natural physical world from the marine, through the atmosphere to space, the free, family event will see hundreds of researchers share their work with the public. Thousands are expected to visit the Promenade Galway on the night, to participate in experiments, competitions and quizzes, to watch demonstrations and simulations, to exchange ideas and get to know the researchers.
Sea2Sky is organised by NUI Galway, with huge support from partners the Marine Institute and Galway Atlantaquaria, and CIT Blackrock Castle Observatory in Cork.
While school visits will take place throughout the day, according to the programme published today, at 3pm Commissioner Geoghegan-Quinn will officially open the evening event to coincide with events starting right across Europe.
Chief organiser, NUI Galway's Dr Andrew Shearer, a lecturer in physics, says: "We are thrilled to have Commissioner Geoghegan-Quinn officially opening this European-wide event. It is an exciting and important time to celebrate Ireland's reputation and involvement in research, and our significant track record in leading European science projects."
This year, Sea2Sky is linking up with the Galway Science Forum's exhibition about the work of CERN – Accelerating Science. This exhibition, sponsored by Boston Scientific in partnership with NUI Galway, will show how CERN's Large Hadron Collider can help us understand fundamental questions about the origins of the universe.
Last year, some 10,000 people came to the Sea2Sky event, and the plan is for an even bigger event this year, with highlights including the CERN exhibit, 3D tours of the universe and tours of the aquarium.
The Galway Bay Hotel, Leisureland and Galway Atlantaquaria will be the three venues in Salthill Galway, with events also taking place in CIT Blackrock Castle Observatory in Cork.
As part of the European Researchers Night 2012 organisers of the Sea2Sky event are asking all young photographers to submit photographs to the free competition entitled 'Earth, Wind and Fire'. Open to students of all ages across Irish primary and post-primary schools, the aim is to encourage talented young photographers to capture unique moments incorporating Marine, Atmosphere and Astronomy.
To view the full programme, or for more information, visit www.sea2sky.ie
-ends-

Keywords: Press.
Author: Marketing and Communications Office, NUI Galway
« Back