John McGahern at the Centre for Irish Studies, NUI Galway
Tuesday, 12 February 2002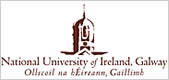 Release date: 12 February, 2001
John McGahern at the Centre for Irish Studies, NUI Galway
The Centre for Irish Studies at NUI, Galway has announced the appointment of novelist and short-story writer, John McGahern, to the position of Adjunct Professor of Irish Studies for a period of three years. Louis de Paor, Director of the Centre for Irish Studies, welcomed the appointment which, he said, was appropriate recognition for a lifetime of creative achievement at the highest level. 'Its a considerable honour for the University and the Centre for Irish Studies in particular, that a writer of John McGahern's achievement and international distinction should be affiliated with us in this way,' said de Paor. 'It is crucial to our work here that we should acknowledge and celebrate the achievement of our pre-eminent artists and writers in this way and forge a more dynamic relationship between the creative and performing arts and the academic community at NUI, Galway.'
John McGahern has had a long and productive relationship with NUI, Galway as a regular contributor to the Summer School, and recipient of an honorary Doctorate in Literature in 1994. In his position as Adjunct Professor of Irish Studies, he will give a number of readings each year and conduct seminars on aspects of Irish life and culture under the auspices of the Centre for Irish Studies. Critics have hailed his latest novel, That They May Face the Rising Sun, as a masterpiece by Ireland's finest living novelist with one commentator being moved to declare himself envious of anyone who had yet to read it for the first time.
John McGahern will launch a new series of Public Lectures in Irish Studies at NUI, Galway with a reading from the novel on Tuesday 19 February. The reading will take place in the Ó hEocha Theatre in the Millennium Arts Building and will begin at 8.00pm. Admission is free and everyone is welcome to attend.
Ends
Information from: Máire Mhic Uidhir, Press Officer, NUI, Galway. Tel. 091 750418
Keywords:.