NUI Galway academic elected Chairperson of Research Association
Monday, 14 January 2002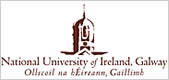 Release date: 15 January, 2002
NUI Galway academic elected Chairperson of Research Association
Dr. Donal Leech, of the Department of Chemistry, NUI, Galway, was elected Chairperson of the Irish Research Scientists Association (IRSA) for the year 2002 at the association s annual general meeting in Dublin recently.
The IRSA exists to promote excellence in scientific research in Ireland, a greater awareness of the role of research in our lives, and Ireland s scientific heritage. The IRSA was established in 1993 in response to the then Government policy of eliminating expenditure on fundamental research. IRSA was successful in reversing that decision and the association continues to campaign for improved research funding policies, mechanisms and resources today.
IRSA is a voluntary association of individuals and organisations interested in its aims and currently has a membership of over 700, composed of academic and industrial researchers, teachers, journalists, politicians and civil servants from within Ireland and abroad. More information on IRSA is available on the association s web-site (www.irsa.ie) or by contacting Dr. Leech (donal.leech@nuigalway.ie)
Ends
Information from: Máire Mhic Uidhir, Press Officer, NUI, Galway. Tel. 091 750418
Keywords:.