NUI Galway Awards Business Certificate to 200 Junior Certificate Students
Thursday, 26 January 2012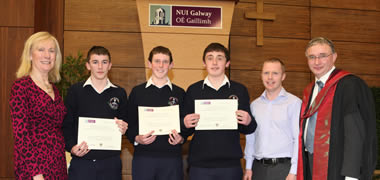 Pictured at the NUI Galway/BSTAI Junior Cert Business Studies awards from were: (l-r) Mary O'Sullivan, President BSTAI; students from Carrick-on-Shannon Community School Niall Bambrick, Ben Donohue, John Gannon and their teacher Andrew McManus; and Professor Willie Golden, Dean of the College of Business, Public Policy and Law at NUI Galway.
Students from across Connaught who received an A in Junior Certificate Honours Business Studies, were presented with Certificates of Achievement from the College of Business, Public Policy and Law, NUI Galway recently. The presentations, in association with the Business Studies Teachers Association of Ireland (BSTAI), were made at a recent special ceremony at the University which included teachers and parents.
This is the second year NUI Galway has presented these awards and 200 students received recognition for their achievement at the ceremony. The certificates were awarded to students from over 55 individual schools throughout the counties of Galway, Leitrim, Mayo, Roscommon and Sligo.
Dr Willie Golden, Dean of the College of Business Public Policy and Law, NUI Galway, who presented the certificates to each individual winner, said: "NUI Galway's international success is built on a strong and enduring relationship with its hinterland, and a commitment to working with all stakeholders in the community. We are continuously updating our suite of business programmes to ensure we stay ahead of market changes and industry demands. I congratulate all the students on their achievement and also the work of teachers in helping students achieve their potential."
Mary O'Sullivan, President, BSTAI said "The BSTAI are delighted to partner with NUI Galway to host this ceremony which celebrates and recognises academic excellence in Business Studies at a young age. I have no doubt that many of today's award recipients will embark on successful careers in the business world."
ENDS
Keywords: Anatomy.
Author: Marketing and Communications Office, NUI Galway
« Back