NUI Galway opens the door of opportunity for basic computer training
Tuesday, 10 January 2012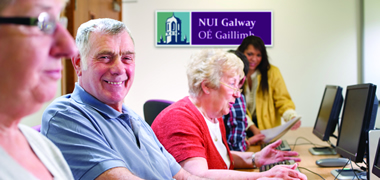 NUI Galway is pleased to announce the launch of a new computer training initiative aimed at people categorised as digitally excluded. Working in partnership with Limerick Community Connect, DCU and Age Action Ireland, NUI Galway will deliver basic computer training to 400 people between January and June of 2012.
'Click & Connect' is funded by the Department of Communications, Energy and Natural Resources and will be delivered by the Discipline of Information Technology at NUI Galway. All training will be provided without charge.
Experienced tutors will introduce learners to the very basics of computers and teach them computer activities such as: surfing the web, setting up and using email, how to download photographs, how to access Government information on-line. Classes will be small and will be carried out in local, non-formal learning settings.
Professor Gerry Lyons, Dean of the College of Engineering and Informatics, stated that there are thousands of people living in Ireland today who have been left behind when it comes to the internet. Referring to the new computer training initiative he said: "Older people will particularly benefit, as will unemployed people and disadvantaged groups in the Galway region. These people miss out on opportunities most people take for granted. For example, those not yet online cannot send emails, do internet searches for products or information, or conduct Government transactions online."
NUI Galway has designed training material suitable for beginners, with plenty of support and encouragement from the volunteer tutors. The training provided will be very basic and is intended as practical guidance for people with no prior experience of computers and the internet. Classes will be just two hours duration over three consecutive weeks and are a great opportunity to be part of this amazing digital world.
If you would like more information on NUI Galway's 'Click and Connect', or to register for the classes, please contact the co-ordinator Trish O'Connell in the Discipline of Information Technology at 087-0571967 or e-mail her at clickandconnect@nuigalway. Training begins the week of 16 January.
ENDS
Keywords:.
Author: Marketing and Communications Office, NUI Galway
« Back