NUI Galway Named The Sunday Times University of the Year Runner-up
Friday, 5 October 2012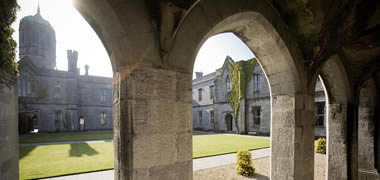 Sunday Times University Guide to be published Sunday, 7 October, 2012
Completing a full sweep of successes with third-level rankings in recent weeks, NUI Galway has been named as the runner-up in The Sunday Times University Guide 2013, a special 64-page supplement to be published with the newspaper this weekend (7 October, 2012). This news comes just days after it was announced that NUI Galway had risen dramatically in a separate prestigious world ranking.
The Sunday Times University Guide 2013 is a definitive guide to higher education in Ireland and the UK. The 2013 guide ranks third-level institutions against six key indicators, including Leaving Certificate points for entry, top degrees awarded, graduate job prospects and income generated from research.
NUI Galway was lauded for having one of the lowest dropout rates among all third-level institutions across Ireland and its excellent record for graduate employment.
According to Kate Butler, jourmalist and co-author of the Sunday Times University Guide: "NUI Galway's excellent performance in terms of job progression (with 93.7% of graduates going on to jobs or further education), of the amount of research funding it secures per academic staff member (it came fourth nationally in this category) and its high completion rate (just 16% students dropped out, one of the lowest rates amongst Irish universities) meant that the west coast university secured the runner up position of the Sunday Times University of the Year Award. Other factors that commended NUI Galway were its academic initiatives including credit for volunteering and its successful access record, as well as its strong performance in the creation of start-ups and patents."
NUI Galway was previously named University of the Year 2009 in The Sunday Times University Guide, securing the prestigious accolade for a second time having won the inaugural University of the Year in 2002.
The Sunday Times Irish University of the Year' award is made not solely on league table position but also on the University's contribution on a local, national and international level, the quality of the student experience and the overall robustness of the institution.
President of NUI Galway, Dr Jim Browne, commented: "This is all very good news for NUI Galway as it confirms that our position nationally and internationally is on the rise and that we are succeeding in our efforts to achieve recognition in selected priority areas. In spite of substantial cuts in overallfunding at third-level in Ireland, our University has gone against the tide to secure a marked improvement in these very competitive rankings."
President Browne continued: "The University offers our students world-class teaching and encourages active engagement with the learning experience through opportunities such as volunteering, work placement, international exchange programmes, sports clubs and vibrant student societies. Our focus on student engagement contributes to our leading retention rate among universities and strong employment figures for our graduates."
Earlier in the week NUI Galway jumped to third place in the country in this year's Times Higher Education (THE) World University Rankings. NUI Galway is now ranked 336th in the THE Rankings 2012/2013,an increase of 31 places on last year's position. NUI Galway was one of only two universities improving their world ranking this year, with Trinity College Dublin also increasing their position by seven places to 110.
This increase in position follows on from a similar result in the QS World University Ranking last month, where NUI Galway was again one of only two Irish universities to increase its position, with a rise of 11 places to 287th in the world.
Earlier this year, the University was also awarded the top award of a five star rating by the QS Stars system, a new rating system designed to provide a more detailed comparison of world universities than the rankings provide.
University College Dublin (UCD) is awarded the accolade of The Sunday Times University of the Year, with Limerick Institute of Technology as The Sunday Times Institute of Technology of the Year, with Dundalk IT the runner-up.
Cambridge is the top university in the UK, with Oxford in second place, among the 126 degree-awarding institutions in Britain and Northern Ireland profiled in The Sunday Times University Guide, out this weekend.
Ends
Keywords: Press.
Author: Marketing and Communications Office, NUI Galway
« Back