Máirtín Ó Direáin - Fathach File / Reluctant Modernist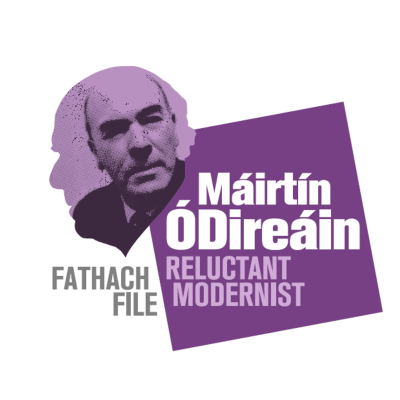 Tá an-áthas ar OÉ Gaillimh taispeántas speisialta faoin bhfile - Máirtín Ó Direáin - a chur ar siúl in 2018, Bliain na Gaeilge. Déanann an taispeántas seo, atá curtha le chéile ag Síobhra Aiken (Ionad an Léinn Éireannaigh), saol an fhile a chomóradh agus a chuid saothar a cheiliúradh cothrom is 30 bliain i ndiaidh a bháis. Baineann an taispeántas úsáid as cartlanna, foinsí agus bailiúcháin ealaíne laistigh den Ollscoil agus lasmuigh di, chun léargas suntasach a thabhairt don ar an bhfathach file.
NUI Galway is delighted to present a special exhibition on the poet - Máirtín Ó Direáin - in 2018, Bliain na Gaeilge. This exhibition, which has been curated by Síobhra Aiken (Centre for Irish Studies), commemorates the poet's life and celebrates his poetry 30 years after his death. The exhibition draws on archives, resources and art collections from within the University and beyond to give a fascinating insight into this iconic literary figure.